Year in Review: Latin America in 2015 and What's ahead in 2016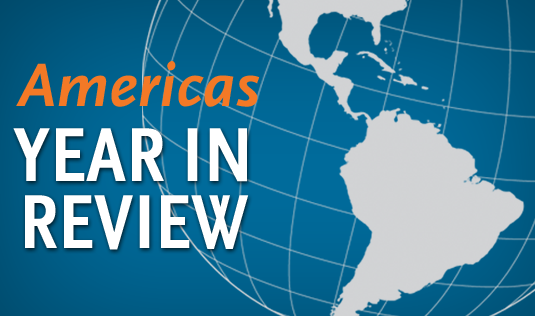 Updated December 22, 2015 — The Americas experienced a tumultuous year, from corruption scandals to commodity price drops to crucial elections. AS/COA Online takes a look at some of the biggest events of 2015 and what they could mean for the year to come.
Brazil's economy took a turn in 2015 when President Dilma Rousseff started her second term in office in January facing negative GDP growth, currency devaluation, rising unemployment, and inflation. In early 2015, Finance Minister Joaquim Levy presented austerity measures yet to be fully approved by Congress—the most right-leaning legislature since 1964, thanks to the so-called "bullets, beef, and bible" caucus.
The country continues to face its largest corruption scandal ever after the Supreme Court approved the investigation of 54 people on March 6 for ties to a bribery scheme involving state oil firm Petrobras. Millions took to the streets in protest and Rousseff announced a new anti-corruption package on March 18. In December, Chamber of Deputies President Eduardo Cunha accepted a request to remove the president from office. The impeachment outcome remains uncertain.
During the year, the Brazilian government hit the road in search of an economic boost. Rousseff finally visited the White House in June, renewing Brazil's relationship with the United States after diplomatic discomfort over a 2013 spy scandal. Rousseff's trip resulted in a number of bilateral accords.
The two countries also took part in COP21 talks in Paris, which sealed an agreement with the widest participation of countries in the history of UN climate conferences. For Brazil, fighting deforestation in the Amazon is key to meeting emissions reduction goals.
But the world will be watching Brazil for another reason in 2016. In August, Rio de Janeiro will host South America's first Olympic Games. Despite the costs, the mega event could offer a chance for the country to show its resilience.  
In Mexico, 2015 marked the midway point in President Enrique Peña Nieto's six-year term and a chance to see results of reforms achieved early in his sexenio. A 2014 constitutional amendment opened the country's energy sector to private investment for the first time in decades, and companies started bidding this year on oil fields for exploration and production. While many considered the first stage of auctioning a disappointment, a subsequent one experienced better success and sparked optimism about future rounds. The government also began teacher evaluations tied to the country's education reform in an effort to focus on merit over corruption in awarding teaching posts.
Concerns about transparency bubbled to the surface, with ongoing protests over the mishandled investigation into the 2014 disappearances of 43 students in violence-plagued Guerrero state. The dramatic July 2015 prison escape of cartel leader Joaquín "El Chapo" Guzmán did little to assuage corruption fears. A report published before June's midterm elections found that 91 percent of Mexicans don't trust political parties and 81 percent don't trust legislators. The election saw independent gubernatorial candidate Jaime "El Bronco" Rodríguez win the key state of Nuevo Leon. Established political parties took hits at the ballot box, though the governing party won the most legislative seats.
Aside from elections signaling the possibility of future change to the status quo, Mexico could see a drug policy shift. A November Supreme Court decision allowed for limited legalization of recreational marijuana use for the case's four plaintiffs. The government will hold a national debate on its marijuana laws starting in January.
When it comes to battling corruption, Guatemala made history. A customs fraud scandal known as La Línea rocked the executive branch, leading the vice president and ministers to step down while protesters took to the streets over the summer. By August, new revelations tied President Otto Pérez Molina to the scandal, and the UN-backed International Commission against Impunity in Guatemala (CICIG) and attorney general sought his impeachment. On September 2, he resigned, marking the first time a Guatemalan president stepped down over corruption charges. He was subsequently arrested.
The scandal had a clear impact a few days later, when political newcomer and former comedian Jimmy Morales earned the most votes in the September 6 first-round presidential election. Morales, who ran under the slogan "Neither corrupt, nor a thief," won the runoff by a landslide on October 25. He takes office in January 2016, and faces a fractured Congress. Beyond Guatemala's election, La Línea's impact has already been felt: in September, Honduras established its own version of the CICIG.
Feeling the effects of an oil-price drop
2015 was a hard year for Colombia's economy, as the continued oil-price drop forced the country to adjust its budget to account for a 2.5 percent decline in GDP over a three-year period and led to a devaluation of the Colombian peso.
In September, diplomatic tensions arose with Colombia's neighbor when Venezuela's President Nicolás Maduro closed the border, forcing some 20,000 expat Colombians to return home. On October 25, Colombia elected new mayors and governors, races in which former President Álvaro Uribe lost influence, and the left lost the capital, Bogota, for the first time in 12 years. 
In July, peace talks between Colombian President Juan Manuel Santos' government and the Revolutionary Armed Forces of Colombia, known as the FARC, reached their lowest level of popular support in more than two years. But the two sides reached a September agreement on one of the thorniest issues and announced a deadline to sign a peace accord: March 23, 2016. Colombians will vote to accept the deal through a plebiscite in the coming year. 
In 2015, the price of oil tanked, and it took chavismo with it. Oil, which represents 95 percent of Venezuela's state coffers, fell below $40 per barrel in December—the lowest price in more than a decade and a fall from over $100 just a year and a half prior.
The drop sent the country into a fiscal tailspin. In the last three years, oil revenues fell 56 percent from $94 billion to $41 billion, according to Bank of America's Francisco Rodríguez, who qualified it as the biggest external shock Venezuela's ever faced. While President Nicolás Maduro's administration stopped publishing inflation reports in 2014, experts put the figure above 150 percent for 2015.
In December 6 legislative elections, Venezuelans took their frustrations to the polls. Voters handed the opposition coalition a two-thirds supermajority in the country's National Assembly, dealing chavismo its worst defeat since coming to power 17 years before. The win opens up the possibility for major institutional changes to the degree opposition parties can define a unified agenda in the coming session. The Assembly's 167 new deputies will be sworn in to five-year terms on January 5, 2016.
The electoral sea change aside, Venezuelans will still begin the new year facing economic scarcity. "A very hard life for Venezuelans in 2016," said expert Moisés Naím of the Carnegie Endowment for International Peace at a December 15 Council of the Americas event. "Sadly, that's my prediction."
Twelve years of kirchnerismo in Argentina came to an end in 2015 with Mauricio Macri's presidential inauguration on December 10.
Three candidates led the race to replace outgoing President Cristina Fernández de Kirchner in the Casa Rosada: Buenos Aires city Mayor Macri, National Deputy Sergio Massa, and Buenos Aires province Governor Daniel Scioli. Leading up to the October 25 first-round vote, Scioli led most polls by a significant margin, but on voting day, Macri's support surged, forcing a runoff. After picking up the lion's share of support from Massa and other candidates, Macri won the November 22 runoff with 51.4 percent of the vote.
The new president will have a short honeymoon: he faces a stagnant economy and a protracted battle with the country's holdout creditors over its sovereign debt restructuring, which continues to play out in a U.S. Federal District Court.
Meanwhile, the opposition controls both houses of Congress, which means Macri will have to court the Peronists in order to implement his fiscal proposals.
The U.S. presidential election may be months away, but candidates spent much of 2015 on the campaign trail. The Republican primary field is crowded with more than a dozen candidates, and months of debate have barely whittled the field down. The topic of immigration became a central one in the race, propelling businessman Donald Trump and his protectionist and anti-immigrant platform to the top of the polls. On the Democratic side, U.S. President Barack Obama's former Secretary of State Hillary Clinton dominated polls for much of the year, including a commanding lead among the Latino vote. Analysts expect 13.1 million U.S. Latinos to go to the voting booth on Election Day—about 1 in every 10 voters—up from 11.2 million in 2012.
Voting kicks off on February 1, 2016, with the Iowa caucuses, followed by New Hampshire primaries on February 9 and so-called Super Tuesday on March 1. The parties will hold their conventions and formally nominate their respective presidential and vice presidential candidates in late July. The general election takes place on Tuesday, November 8. 
In the Caribbean, warming ties and migration worries
After Obama's initial announcement about rapprochement with Cuba in December 2014, the two countries kept a steady pace in reestablishing ties throughout 2015.
A host of regulatory changes loosened rules for U.S. trade and travel, and the two countries reopened embassies in each other's capitals. Meanwhile, U.S. politicians and business delegations alike flocked to the island.
And Cuba is ready for the attention. With an eye to boost sluggish GDP growth to 4 or 5 percent, the Cuban government hopes to reel in $8 billion in foreign investment as it expands its private sector. However, cuentapropistas—the island's entrepreneurs—are still limited to a list of 201 official occupations, making President Raúl Castro's reforms a kind of "economic mambo."
In the meantime, there's a new Cuban exodus to the United States taking place that begins as far south as Ecuador and that's left thousands stranded on the Costa Rican-Nicaraguan border. Cubans say they're moving now before the United States changes its "wet-foot, dry-foot" policy and lose special immigration privileges, even though immigration is not on the bilateral agenda.
Instead, a different set of claims stands in the way of fully normalized relations, namely a U.S. trade blockade imposed on the island in 1962. Over the summer, U.S. Representative Tom Emmer (R-MN) introduced legislation to lift the embargo, and he says the change may even be feasible before Obama leaves office. 
Caribbean neighbor Haiti had a tumultuous but important year, with January 2015 marking the five-year anniversary of an earthquake that had roughly 80,000 Haitians displaced as of the start of the year. Also in January, the country's parliament dissolved. The legislative elections, delayed since 2011 and which left President Michel Martelly ruling by decree, finally took place on August 9. But widespread violence at polls forced Haitians to cast votes again for a majority of the legislature on the same day they voted for a new president. The UN renewed its peacekeeping mission and October 25 general elections saw low turnout and some claimed fraud. Among the 54 presidential candidates running, the ruling party's Jovenel Moïse won the most votes, but not enough to avoid a second round against Jude Célestin of the Alternative League for Progress and Haitian Emancipation party, or LAPEH. However, given claims of fraud, Haiti's election council postponed the December 27 runoff to investigate the electoral process. 
The Dominican Republic's summertime threat to deport hundreds of thousands of Haitians and Dominicans of Haitian descent added to Haitians' 2015 concerns. 
---
Infographic: What We Learned in Numbers