Registration: 8:30 a.m. to 9:30 a.m.

(9:30 a.m. to 10:30 a.m. ET)

Confe...

Live broadcast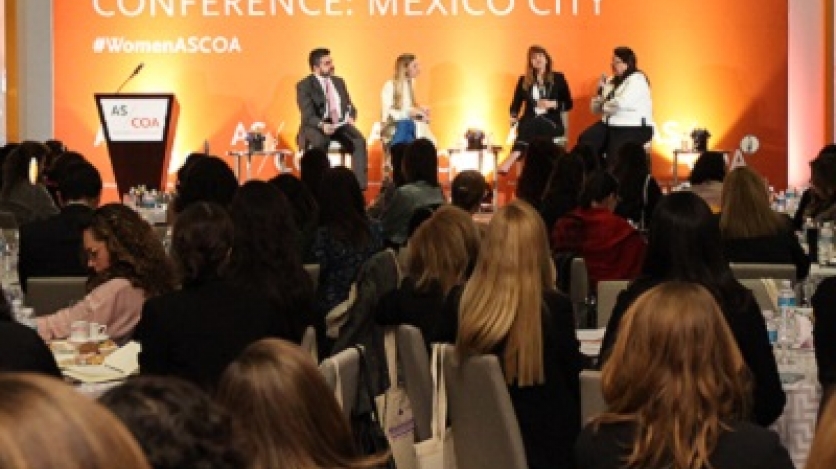 (Image: Francisco Quezada)
AS/COA Women's Hemispheric Network Conference: Mexico City
Join AS/COA's Women's Hemispheric Network as we celebrate our third conference in Mexico City on November 29.
Overview
Join the Women's Hemispheric Network as we host our third conference in Mexico City. Conference participants will have the opportunity to network and join in the conversation with table leaders. This year's conference will focus on building a better pipeline for female leaders in male-dominated industries and the importance of making bold decisions. 
Confirmed Speakers:
Registration and Cancellation: Please contact Juan Serrano-Badrena at jserrano@counciloftheamericas.org before 12:00 p.m. on Monday, November 27.
Table Sponsorship Opportunities: Natalia Novak-Williamson | nwilliamson@as-coa.org | 1-212-277-8374
COA Corporate Membership Information: Mila Fontana | mfontana@as-coa.org | 1-212-277-8331
Press Inquiries: mediarelations@as-coa.org

In collaboration with MBA Mujeres en México
Agenda
All times are in local Mexico City time (UTC -5), one hour behind New York.
8:30 – 9:30 a.m.  Registration and Continental Breakfast
9:30 – 9:45 a.m.  Opening Remarks (webcast)
Ragnhild Melzi, Vice President, Americas Society/Council of the Americas 
9:45 – 10:30 a.m. Conversation: Preparing the Pipeline — Empowering Women in Male-Dominated Fields (webcast)
Leaders discuss the importance of supporting women in traditionally male-dominated industries from the start of their careers to their success in the C-suite and boardroom. How do we get young women excited to study and work in STEM and other traditionally male-dominated fields? How can professional be best supported so they persevere in challenging or unwelcoming industries?
Scarlett Alvarez, Vice President and Chief Stakeholder & Sustainability Officer, The AES Corporation
Maria Teresa Arnal, CEO, Google Mexico
Evelyn Vilchez, General Manager, Chevron Energía de Mexico
Alberto Chaia, Senior Partner, McKinsey & Company, Mexico (moderator)
10:30 – 11:00 a.m.  Coffee and Networking Break (no webcast)
11:00 a.m. – 12:00 p.m.  Table Leaders Session (no webcast)
Leaders from a variety of sectors will facilitate an informal conversation with conference participants.
Miguel Carreon, AES México 
Ana Claudina García, American Tower
Maria Lourdes Gallo, AS/COA
Alana Tumino, AS/COA
Alejandra Martinez, Analyse Professional Services SA CV
Maria Elena Blanco, Apple, Inc. 
Adriana Rangel, BlacRock Mexico
Alfredo Herrera-Vaillard, The Boeing Company
Mariana Albarrán Flores, Braskem
Victor Herrera
Evelyn Vilchez, Chevron Energía de México 
Paulina Lopez Noriega, Dell EMC
Alexandra Aguirre, Greenberg Taurig
Gabriela Martell, JP Morgan
Maria Esther Torres, Kellogg Latinoamérica 
James Stranko, McKinsey & Company
Rebeca Servin, Microsoft 
Odracir Barquera, Senate of Mexico 
12:00 – 12:45 p.m.  Conversation: Making Bold Decisions — When Is It Worth the Risk? (webcast)
Women from across the region share their experiences of taking chances, thinking outside the box, and building their careers. As a successful professional woman, how do you speak up so people listen? What advice would you give to young professionals seeking to become daring leaders?
Gina Diez Barroso, President and CEO, Grupo Diarq
Patricia Menéndez-Cambó, Vice President and Secretary, Greenberg Traurig LLP
Verónica Zavala Lombardi, IDB Group Representative in Mexico, Inter-American Development Bank
Jonathan Ruiz, Chief of Digital and Printed Business and Economy Content, El Financiero
12:45 – 1:15 p.m.  Keynote Remarks (webcast)
Laura Chinchilla, Former President of Costa Rica
1:15 – 1:20 p.m.  Closing Remarks (webcast)
Ragnhild Melzi, Vice President, Americas Society/Council of the Americas