U.S. 2020: Joe Biden and Donald Trump on Mexico Relations
Trump's warm relationship with Mexican President Andrés Manuel López Obrador endures, but a Biden victory would mean a new bilateral bond.
Politics makes strange bedfellows, and there might be no better example than U.S. President Donald Trump, who launched his original candidacy by bashing Mexican migrants, and Mexico's President Andrés Manuel López Obrador, who launched his third—and winning—candidacy after publishing a book defending them. The two leaders' friendship has been called an "odd" and "bizarre" bromance, with ongoing bets about what could spark a breakup.
But if Trump's penchant for threatening Mexico over immigration, trade, and organized crime didn't end it, something else could rupture the relationship: A Joe Biden victory come November.
We take a look at where U.S. presidential candidates Biden and Trump stand on top issues for the bilateral relationship.
This article was originally published on October 15 and has since been updated.
Joe Biden
Bilateral Relations
In July 2020, López Obrador, or AMLO, visited the White House a few days after the U.S.-Mexico-Canada Agreement (USMCA) went into effect. But he skipped a meeting with Biden, saying "It wouldn't be right to speak with candidates because it's a working visit." This despite the fact that, back when he was vice president, Biden met with AMLO while he was a candidate in Mexico's 2012 presidential race. 
The decision not to see Biden led to speculation about other reasons behind the move, such as AMLO betting on a Trump win or seeking not to anger the mercurial U.S. president. Another possibility, given that Mexican Foreign Minister Marcelo Ebrard worked on the 2016 campaign for Democratic candidate Hillary Clinton, is the Mexican government may feel it can work backchannels to rebuild relations in the case Biden wins. The current Mexican ambassador in Washington, Martha Bárcena, says her country's government isn't for or against either candidate and will continue to work with whomever is the White House's occupant. After all, the relationship is just too important to spoil, given a 2,000-mile shared border, more than $600 billion in 2019 bilateral trade, and 37 million people in the United States being of Mexican heritage. 
Biden advisor Juan Gonzalez has warned that AMLO's White House visit and praise of Trump could have a political cost. But former Mexican Ambassador to the United States and Americas Society Board Member Arturo Sarukhan says he does not expect that Biden would "extract pain" and that, instead, "there will be a complete reset in discourse, narrative, and engagement." Former U.S. Ambassador to Mexico Roberta Jacobson echoed this sentiment, saying Biden would seek bilateral ties based on "respect, dignity, and collaboration." 
There's also the possibility that the ties won't change that much at all. After all, López Obrador cares primarily about domestic policy, meaning he takes an appeasement approach with Trump to avoid conflict precisely so he can maintain his eyes on goals at home. While Biden may take a more global view, AMLO will continue to stay centered on what he wants to get done within Mexico's borders.
Immigration
Concerns about relations aside, Biden has said he would roll back some Trump measures affecting Mexico, including ending the Trump administration's Migration Protection Protocols policy, commonly known as the "Remain in Mexico" program, that sent some 60,000 asylum seekers to wait out their U.S. court dates on Mexican soil.
The Wall
When it comes to a U.S.-Mexico border wall, expect changes under Biden, who says the region "shouldn't be treated as a war zone." He plans to end the diversion of Pentagon funds for wall construction. Regarding confiscations of private property to clear a path for wall construction, Biden said in August 2020: "Stop. Done. Over. Not going to do it. Withdraw the lawsuits. We're out." 
The Democratic candidate also said he wants to invest in border technology and improve border screening procedures in cooperation with Canada and Mexico.
Arms Trafficking and Security
Biden supports reinstating the assault weapons ban—an important measure for U.S.-Mexican relations, given how many of these weapons get smuggled into Mexico. He proposes to direct the Bureau of Alcohol, Tobacco, Firearms, and Explosives to issue annual reports, which would provide information to identify strategies for combatting firearms trafficking. 
Trade
There's one area where we're unlikely to see a reversal, and that's the USMCA. Biden voiced support for the accord following U.S. congressional approval of its implementation in December 2019, saying that, "The vast majority of the labor movement supported it."
Where there might be a difference is in how a Biden administration would enforce it, given endorsements the candidate won from labor unions. Democrats in the U.S. House of Representatives approved the USMCA after inserting additional measures—ones Biden praised—to create panels ensuring Mexican factories adhere to labor protections and to allow for tariffs on companies that violate those labor rules. 
Biden's running mate, Kamala Harris, was one of the eight Democratic senators who did not back the USMCA. 
Energy & Environment
One area where the AMLO government could face a challenge with Biden is in the field of energy. The former vice president, who backs a plan for net-zero greenhouse gas emissions by 2050, proposes a regional investment strategy focused on clean energy and sustainable infrastructure to drive innovation "from Canada to Chile." Meanwhile, the AMLO government has doubled down on a statist energy policy that puts fossil fuels first.
Moreover, the AMLO government's moves to restrict or cancel international contracts in the electricity and renewables sectors could run afoul of USMCA environmental provisions. Observers say a Biden administration may be more likely to apply pressure on this front than Trump, who has been halting when it comes to U.S. energy companies' requests to raise concerns with the Mexican government.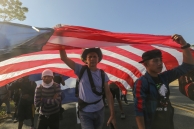 U.S. 2020: Joe Biden and Donald Trump on Immigration
The two candidates disagree on nearly every aspect of immigration policy.
Donald Trump
Bilateral Relations
Back when AMLO was a solid frontrunner for Mexico's presidency in 2018, many thought his eventual win would spell tensions with a Trump administration. After all, in 2017 AMLO wrote the book on the subject: Oye, Trump covering meetings he held with migrants in the United States and framed as a series of proposals to defend Mexicans in the face of Trump's xenophobia.
Yet, during AMLO's 2020 Washington visit, the Mexican leader not only praised Trump at the White House for his "kindness and respect" but opted not to meet with Mexican immigrants. And, though AMLO was often identified as a leftist on the campaign trail, his relationship with the conservative Trump has endured. One could argue that AMLO's landslide victory coupled with high approval gives Trump reason to see AMLO as a winner.
Immigration
Another reason the AMLO-Trump alliance keeps going strong is that Mexico continues to serve as a buffer zone between the United States and Central America, detaining or deporting migrants at its southern border with Guatemala and accepting asylum seekers as part of the Remain in Mexico program to the north. Some have quipped that, in the end, Trump got his wish by making Mexico itself "the wall." 
Though the Trump administration's Remain in Mexico policy has been challenged in court more than once, it still stands.
The Wall
Trump famously made promises of a border wall—and Mexico paying for it—a cornerstone of his 2016 campaign. He continues to talk up his progress in its construction and claim in campaign rallies that Mexico will cover the costs through measures that have not come to fruition, such as tolls for cars crossing the border or remittance taxes. U.S. Customs and Border Protection said in early September that 307 miles of border wall had been built, though reports indicate that only about five of those miles are new while the remainder involve reinforcements. 
While Trump has yet to force the U.S. neighbor to make good on the invoice, he used emergency powers to divert $3.6 billion in military funds for border construction. On October 13, a federal appeals court said the move was illegal. 
Arms Trafficking and Security
Last year, Ebrard said that the Trump administration had committed to taking action to end arms smuggling following an October 2019 gun battle in Culiacán, Mexico involving a failed attempt to arrest the son of imprisoned cartel leader Joaquin "El Chapo" Guzmán. Gun smuggling has been a longstanding concern for Mexico, with some 70 percent of 132,000 illegal weapons seized in Mexico between 2009 and 2018 coming from the United States. 
On the other hand, the Trump administration said in 2019 there was "no political appetite" for an Assault Weapons Ban, which expired in 2004, leading to such weapons flooding illegally into Mexico.
Also last year, Trump threatened to designate Mexican cartels as terrorist organizations and suggested Washington could launch an offensive against such groups in Mexico. AMLO responded by saying: "Cooperation, yes; intervention, no." A September 2020 State Department memorandum warned that Mexico "must clearly demonstrate its commitment to dismantling the cartels" or find itself "at serious risk of being found to have failed demonstrably to uphold its international drug control commitments." 
More recently, U.S. authorities arrested former Mexican Defense Minister and General Salvador Cienfuegos in October on drug trafficking and money laundering charges upon his arrival in Los Angeles for, reportedly, a family vacation. Observers have speculated that the arrest could lead to tensions between the AMLO and Trump governments, given signs that AMLO's administration was largely kept in the dark about the operation.
Trade
The Trump administration heralded passage and implementation of the USMCA after it replaced the 25-year-old North American Free-Trade Agreement, which the U.S. president called "the worst trade deal ever made." The agreement went into force on July 1, 2020.
In June 2019, Trump threatened, but did not impose, escalating tariffs against Mexico if it failed to battle unauthorized immigration—a key step in Mexico's acceptance of the Remain in Mexico program. 
Energy
When it comes to energy, the Trump administration has at times proven an ally for AMLO and his oil-focused energy policies. In April 2020, when Mexico resisted an accord sought by OPEC+ members to reduce production amid collapsing prices, Trump announced the United States would make additional production cuts to help Mexico meet the required 400,000 bpd trim. 
In August, Trump signed pipeline permits that would export hydrocarbons into Mexico, despite such a move seeming to come into conflict with AMLO's goals of Mexican energy self-sufficiency, and even as López Obrador has taken steps seen as undermining the 2013 energy reform that opened his country up to greater private investment.