Six Things to Know about Mexican President AMLO's Trip to Washington
Never mind the pandemic: Andrés Manuel López Obrador is making his first international trip since taking office. There will be layovers.
Updated July 7, 2020—Forget U.S. President Donald Trump's demands that Mexico pay for the wall. Set aside Mexican President Andrés Manuel López Obrador's 2017 book Oye, Trump calling for "a united front against the dehumanizing and capricious politics of the Republican president." Never mind the fact that prior Mexican President Enrique Peña Nieto's decision to host Trump during the 2016 U.S. election cycle was widely considered an error that coincided with the nadir of his approval ratings. Despite all that—and a pandemic to boot—López Obrador and Trump, who have referred to each other in friendly terms regardless of seeming to stand on opposing ends of the political spectrum, will meet at the White House this week.
Here are six things to know about the White House visit by López Obrador, frequently referred to as AMLO.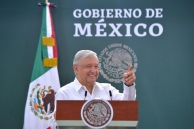 Approval Tracker: Mexico's President AMLO
Check support levels for Andrés Manuel López Obrador as he enters his final year in office.