Approval Tracker: Mexico's President AMLO
Check support levels for Andrés Manuel López Obrador as he enters his final year in office.
This tracker was initially published March 19, 2019 and has since been updated.

Ever since he began his six-year term in December 2018, Andrés Manuel López Obrador has been described as the "Teflon president." Known as AMLO, the president has commanded approval levels north of 60 percent. And that's where it remains as he marks five years in office. His popularity has meant widening control for his party, Morena. While its coalition lost a two-thirds lower house majority in the June 2021 midterms, it has gained territory when it comes to governorships, mayoralties, and local legislatures. Subsequent elections have given Morena and its allies control of governorships in two-thirds of the country's 32 states.
AS/COA Online tracks AMLO's approval ratings from top pollsters.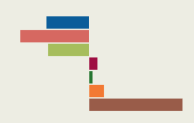 Poll Tracker: Contenders for Mexico's 2024 Presidential Vote
The two main alliances have named aspirants for the June 2024 vote: Claudia Sheinbaum and Xóchitl Gálvez. See polls and who else is in the running.