In Peru, Pedro Castillo Leads by Razor-Thin Margin
With nearly all votes counted, the first-time presidential candidate is ahead of rival Keiko Fujimori by less than half a percentage point.
Updated, June 14 — Pedro Castillo, a teacher and union activist from the Free Peru party, is close to victory in Peru's June 6 presidential runoff against former first lady and Congresswoman Keiko Fujimori from the Popular Force party. With 99.561% of the vote counted, Castillo sits in first place at 50.2 percent, some 60,000 votes ahead of Fujimori out of 18.8 million cast. Fujimori, however, has yet to concede as her campaign and party are claiming fraud. Additionally, election officials are reviewing claims of irregularities from both parties, a process they say could take until early July at the latest to wrap up.
Fujimori, the daughter of jailed ex-President Alberto Fujimori, alleged fraud at a press conference on June 7, saying Castillo's campaign engaged in a "strategy" to "distort or delay the result," but so far she has presented no major evidence of election fraud or tampering. That same Monday evening, the Organization of American States released a statement congratulating Peru on holding a peaceful and democratic election day with no observed significant electoral issues. The following day, the head of one of Peru's leading transparency organizations said their observers found no evidence of electoral fraud, and on Wednesday, a mining magnate and former head of Peru's private business association distanced himself from Fujimori and said that while he might have asked for some reviews, her claims of fraud were "excessive."
As close as the national vote is, there are deep divisions between voters along geographic lines, with Castillo winning several interior and southern departments by gaping double-digit margins. Castillo hails from Cajamarca in northern Peru, and if results hold, he will be just the second elected president to hail from outside Lima since the 1950s. The results are a bitter pill for Fujimori, who aside from losing the two previous presidential runoffs by 0.2 and 2.9 percent, is now likely to face trial in an ongoing anticorruption case, with the hope of presidential immunity all but out of reach. On June 10, prosecutors recommended she be sent back to pretrial detention, after having been released in May 2020 for health considerations at the onset of the pandemic.
Just over 6.5 percent of voters cast blank or null votes on Sunday—exactly the same amount as five years ago—an option typically used as a protest as voting is mandatory in Peru. The next president is to be inaugurated to a five-year term on Peru's bicentennial Independence Day, July 28.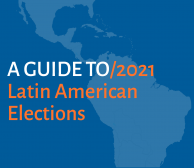 A Guide to 2021 Latin American Elections
In 2021, ten countries in Latin America hold elections—five of them presidential contests—while reeling from the pandemic's devastating impact.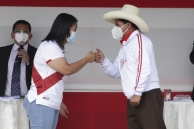 Contrasting Platforms in Peru's Presidential Runoff
Given the polarized race, this bicentennial election will be anything but a celebration. AS/COA Online previews the platforms of Pedro Castillo and Keiko Fujimori.