Poll Tracker: Peru's 2021 Presidential Runoff
See how the race between Pedro Castillo and Keiko Fujimori is shaping up ahead of the June 6 vote.
After a muddled general election with 18 candidates, Peru's presidential runoff between political novice Pedro Castillo on the left and political heiress Keiko Fujimori on the right is drawing sharp divisions among the electorate. Castillo's win on April 11 with 19.1 percent of the vote to Fujimori's 13.4 percent caught even the circumspect off guard, prompting many to consider how they might have overlooked voters outside Lima and in Peru's interior regions, where Castillo draws the bulk of his support.
AS/COA Online looks at Ipsos Peru polling ahead of the June 6 vote.
This tracker was first published on April 19 and is updated as new polling data becomes available.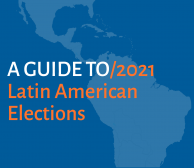 A Guide to 2021 Latin American Elections
In 2021, nine countries in Latin America hold elections—five of them presidential contests—while reeling from the pandemic's devastating impact.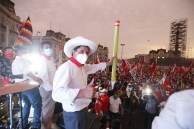 Opposite Corners: Castillo and Fujimori to Spar in Peru's Second Round
The electorate's apathy is giving way to antipathy as two of the most polarizing candidates move on to the June 6 runoff.