Timeline: Tracking Latin America's Road to Vaccination
AS/COA Online covers major developments and Covid-19 vaccine rollouts as countries strive to return to normalcy.
This article was originally published on September 9, 2020, and has since been updated.
More than two years into the pandemic, waves of Covid-19 keep rolling across the globe.The Americas have been particularly hard hit, with the virus claiming more than 2.7 million lives in the region as of May. "The pandemic has surprised us time and time again, and many of its effects will linger for years to come," said the head of the Pan American Health Organization Carissa F. Etienne in late June, noting that up to 20 percent of people who get Covid-19 go on to have long-term related health issues. There have been as many as 161 million confirmed cases in the region since the pandemic began.
But there's good news as well. Nearly 70 percent of the hemisphere's population is fully immunized as of the end of June 2022. Still, 224 million people in the Americas have yet to receive a single vaccine shot.
Through charts and a timeline, AS/COA Online maps out major regional vaccine developments in an effort to cover Latin America's progress toward vaccinations and, ultimately, herd immunity.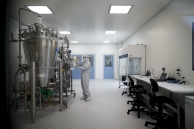 Cronología: Rastreando el camino hacia la vacunación en América Latina
AS/COA Online cubre los grandes desarrollos y distribuciones de la vacuna mientras los países se esfuerzan por volver a la normalidad. 
Chart: Progress of Vaccine Rollout
A note for readers: most vaccines available in the region require two doses, but some are single dose, such as Johnson & Johnson and CanSino.
Chart: Vaccine Coverage and Supply Deals
Getting a population vaccinated means first securing the doses. AS/COA Online looks at vaccine population coverage, supply agreements, and regulatory approvals in the region as of July 15, 2022.
Major Developments
July 15, 2022 — Brazil gives emergency use authorization of China's Sinovac vaccine in children aged three to five. This comes after a late-June decision to officially stop manufacturing Sinovac in Brazil, where production had halted in October 2021.
July 13, 2022 — The World Bank reports that eight in 20 Caribbean countries have yet to reach a 50-percent vaccination rate and attributes the slow rate to low levels of trust in the vaccine.
July 7, 2022 — With Guatemala accounting for one of the lowest vaccination rates in the Americas, Nature publishes an article exploring the reasons for the lagging rates. These include vaccine hesitancy in rural areas, language barriers stemming from the 25 languages spoken across the country, and logistical failures.
June 2, 2022 — Brazil approves a fourth vaccine shot. Those 50 and older are eligible to receive it.
The same day, Cuba and China present a patent for a new Covid vaccine known as Pan-Corona.
May 27 — Mexico announces its intention to vaccinate children 5 to 12, though the Health Ministry admits that it lacks the shots to do so. Mexico began vaccinating children with comorbidities in November after a court ruled it had to vaccinate this group. At first, only 15- to 17-year-olds were eligible. On April 28, registration opened for all children ages 12 to 17 to get vaccinated. 
May 18 — Nicaragua's Confidencial reports that Nicaragua's Ministry of Health administered expired Sputnik Light and Pfizer vaccines.  
May 14 — China's Sinovac begins the construction of a vaccine production facility in Chile. Once completed, the factory will generate 50 million vaccine doses each year, including for Covid-19.
May 8 — In his first decree after taking office, Costa Rican President Rodrigo Chaves drops his country's mask mandate and the requirement that public employees get vaccinated.
April 22 — Mexico learns it will not receive Pfizer vaccines from COVAX, the global vaccine initiative run by the World Health Organization, in that agency's latest allocation. The country intended to use COVAX's Pfizer vaccines to inoculate minors. Mexican health officials stated they will look to either sign direct contracts with Pfizer or with Cuba for its Abdala vaccine. 
April 14 — COVAX receives a $200 million donation from the UK's MedAccess and Open Society's Soros Economic Development Fund. At the beginning of the year, COVAX, which has donated over 90 million doses to Latin America, ran out of funding.
March 29 — The president of the Dominican Republic threatens to sue AstraZeneca after the vaccine manufacturer failed to deliver contracted doses on time. The doses were originally due in the fall.
The country is also in a legal spat with Pfizer after it tried to produce a generic version of the company's vaccine. Pfizer had not authorized the Dominican Republic to do this, though it is allowing 95 other low- and middle-income countries to produce their own generic version through an agreement.
March 26 — Peru announces that starting April 1, adults over 18 will be required to have received a booster shot.
March 22 — The BRICS nations—comprised of Brazil, Russia, India, China, and South Africa— launch the BRICS Vaccine Research and Development Centre to promote cooperation among the nations for the development, production, and distribution of vaccines.
March 21 — Venezuela's de facto president Nicolás Maduro announces that it will be mandatory for citizens to receive a booster shot every four months.  
March 1 — One million doses of the Sputnik vaccine expire in Guatemala, the country with the lowest vaccine rate in Latin America. The government claims the vaccines went unused due to a lack of demand. 
February 22 — Brazil's Oswaldo Cruz Foundation delivers the first batch of domestically produced AstraZeneca vaccines following a technology transfer deal signed in 2021. Brazil plans to produce 45 million doses of the vaccines in 2022.
The same day, Moderna announces a distribution deal with the Uruguayan pharmaceutical company Adium. The company will not produce vaccines, but serve as a distribution hub for countries across the region.  
February 17 — Uniao Quimica, a private Brazilian company, announces it will receive a technology transfer from the Russian Direct Investment Fund that will enable it to make the Sputnik Light shot for distribution in Latin America.
February 14 — COVAX, the global initiative run by the World Health Organization with the goal of promoting vaccine equity worldwide, delivers its 100 millionth shot to Latin America. Overseen by PAHO in the region, COVAX faced substantial delays in 2021 and now is experiencing a budget shortfall.
On the same day, Paraguay grants emergency authorization to a Taiwanese vaccine produced by Medigen Vaccine Biologics Corp. Paraguay, where the vaccine's Phase 3 trials occurred, is the second country to approve the vaccine 
February 3 — Argentina's national drug regulator approves the sale of the Sputnik V vaccine from the Buenos Aires-based Richmond laboratory. This allows the domestically produced vaccine to be delivered within the country and paves the way for Argentina to begin selling its doses abroad.  
January 27 — During her visit for Honduras' presidential inauguration, U.S. Vice President Kamala D. Harris announced that United States will donate several hundred thousand additional vaccine doses to the country. So far, Washington has sent 3.9 million vaccines to the Central American nation.  
January 26 — Cuba's government submits documentation for the World Health Organization (WHO) to approve its Abdala vaccine and plans to do the same for Soberana 2 vaccine in upcoming weeks. The approvals come as the island announces it has secured enough funding to produce 200 million doses of homegrown vaccines for low income countries. The Central American Bank for Economic Integration provided about $53 million of that funding.
January 17 — Brazil begins vaccinating children five and older. This comes after the government used an online survey to gauge parental feedback on whether the country's 20 million children aged 5 to 11 should be eligible to receive vaccines. President Jair Bolsonaro opposed the expansion. On March 2, an inquiry was opened in Congress about whether the president purposefully delayed the beginning of childhood vaccination
January 15 — Peru's health minister calls on vaccine manufacturers to extend expirations dates beyond the current three-month norm. Several Latin American countries, including Peru and Mexico, have accumulated vaccine stockpiles that risk going to waste if they expire.  
January 11 — Mexico's President Andrés Manuel López Obrador announces he has Covid for a second time after several of his cabinet members test positive. At the beginning of December, López Obrador was one of the first people in Mexico to receive a booster shot. 
January 6 — Chile begins giving out fourth vaccine doses—meaning second boosters—to citizens 12 and up who are immunocompromised. By February, all those over 55 will be eligible. President Sebastián Piñera receives his fourth shot on February 7.
December 31, 2021 — Brazil's government releases an online survey to gauge parental feedback on whether the nation's 20 million children aged 5 to 11 should be eligible to receive vaccines.
December 23 — Ecuador declares Covid vaccination obligatory for people living in and visiting the country. In doing so, it becomes the first Latin American country to make getting the vaccine mandatory.
December 17 — Argentina announces it will send 1 million doses to Bolivia, marking the largest donation between South American countries yet. With this tranche, Argentina has donated over 1.7 million doses worldwide.
December 15 — Despite vaccination, the Americas report an 18.4 percent increase in Covid cases from the previous week. The increase is believed to be motivated by the spread of the Delta and Omicron variants, prompting questions about the efficacy of vaccines. Scientists believe the mRNA vaccines, like Pfizer and Moderna, protect against the worst outcomes of both variants. A non-peer reviewed study suggests that Johnson & Johnson, Sinopharm, and Sputnik V—all in circulation in Latin America—are less effective against Omicron.
December 10 — Panama announces it will use 300,000 AstraZeneca vaccine doses to inoculate seafarers at both its Atlantic and Pacific ports.
That same day, Brazil's Ministry of Health suffers a cyberattack on its Covid-19 data, including information on citizens' vaccine certificates. Health Minister Marcelo Queiroga assures that the ministry has backups of all the data. 
December 9 — Mexico's stockpile of unused vaccines surpasses 50 million doses.
Two days earlier, Mexico begins administering boosters, starting with doses of AstraZeneca to those 60 and older. Mexican officials, including President López Obrador are among the first to get a third shot.
December 4 — Cuba announces it is updating its Soberana 2 vaccine, used domestically and in several countries in the region, to enhance its protection against the Omicron variant.
December 2 — Chile surpasses Israel to become the country with the greatest percentage of its population having received a booster dose, with 43.92 percent of Chileans boosted.
November 28 — Argentina donates 450,000 doses of AstraZeneca to Mozambique. The Argentine government says it is planning to send vaccines to at least 10 additional countries.
November 24 — The Biden administration indicates it will offer vaccines to migrants that participate in Remain in Mexico, set to be revived in the coming weeks. The program, officially known as the Migrant Protection Protocols, was installed during the Trump administration and requires migrants to wait in Mexico while their asylum claims are being processed.
November 18 — Oramed Pharmaceuticals, an Israeli firm developing an oral Covid vaccine, announces a partnership with Mexico's Genomma Lab Internacional to advance a Phase 2 clinical trial of their drug.
On the same day, Canada and Mexico announce they will expand their regional vaccine donations at the North American Leaders' Summit in Washington. Exact details and quantities are yet to be announced.
November 13 — Associated Press reports that thousands of Venezuelans travel to Colombian border states to receive vaccines, after the Colombia government agrees to provide them with shots in October. In just the state of North Santander alone, over 34,000 Venezuelans have received jabs.
Similarly, nearly 8,000 Nicaraguans have received vaccines at two border checkpoints in Honduras as of October 25.
November 12 — The United States offers Cuba one million donated vaccine doses despite its embargo on the island nation. Cuba rejects the offer, claiming that the donation has come too late and has too many requirements.
The same day, Brazil's Supreme Court overturns a government order that made it illegal for companies to require employees to be vaccinated. Brazilian companies can now legally fire unvaccinated workers.
November 10 — Russia announces it is considering producing its CoviVac vaccine in Nicaragua.
November 8— Nearly 20 months after imposing restrictions, the United States reopened its borders with Mexico and Canada for nonessential travel for vaccinated people. Unvaccinated children under 18 can enter with proof of a negative Covid test result taken within 72 hours of travel. The new rules require travelers to have been vaccinated with a WHO-approved jab. At the G20 summit in October, Mexican Foreign Minister Marcelo Ebrard asked world powers to recognize all effective vaccines, even if they aren't approved by the WHO. Mexico has given a portion of its citizens immunizations such as Sputnik V and CanSino, which have not been given the green light by the WHO. (See September 27 update for more.)
Also on this day, vaccinations of children older than age two begin in Venezuela, according to the government of Nicolás Maduro. Vaccinations of adolescents began on October 25.
November 5 — Costa Rica announces that it will require COVID-19 vaccines for people between the ages of 5 and 17, making it one of the first countries in the world to make the vaccine mandatory for children.
October 24 — Cuba claims that 100 percent of its vaccine-eligible population—87.6 percent of the total population—has received at least a first dose of one of the country's homegrown vaccines. Cuba is vaccinating all citizens two years and older who do not have comorbidities that would prevent immunizations.
October 22 — The White House blocks the efforts of American cities in Southern California trying to donate doses to Mexico, claiming that those doses are the property of the federal government.
Meanwhile, on October 19, the United States delivers 3,413,000 doses of AstraZeneca to Mexico.
October 20 — Colombia signs a memorandum of understanding with the American pharmaceutical company Inovio to produce its vaccine, which is in Phase 3 trials. While the vaccine is not yet approved, Inovio's goal is to produce a vaccine that requires minimal to no refrigeration.
October 18 — The Dominican Republic continues its regional donations of Covid vaccines, sending 56,800 AstraZeneca doses to Costa Rica. In September, it sent 101,000 doses to Honduras and 304,000 doses to Guatemala.
On the same day, Chile sends 100,000 AstraZeneca doses to Paraguay, bringing its total donated doses to 120,000.
October 14 — Mexico signs an agreement with the Russian Direct Investment Fund to package the Sputnik V vaccine domestically. This agreement paves the way to an increase in the amount of the Russian vaccine being administered in the country. Mexico is also domestically packaging CanSino and AstraZeneca.
October 13 — Haiti announces it will return thousands of Moderna vaccine doses to the United States that are close to expiring. These doses come from the 500,000 the United States donated to the Caribbean country in July via COVAX. Haiti has administered just 66,800 doses to its population of 11.4 million.
October 12 — Argentina becomes the second country in the world after Cuba to begin vaccinating children above the age of two years old. The country began vaccinating people aged 3 to 11 years old using China's Sinopharm.
October 11 — The World Health Organization announces its recommendation that immunocompromised people receive a booster vaccine dose. They also recommend that those age 60 and older who received the Sinopharm or Sinovac vaccines receive a third shot. Both Chinese vaccines are being administered throughout Latin America.
September 29 — PAHO announces a deal to acquire 8.5 million Sinovac doses before the end of the year and 80 million in 2022 Countries in Latin America will be able to purchase doses from the regional health organization.
September 27 — The United States announces new travel rules that allow foreign individuals inoculated with WHO-approved vaccines to enter the country. Sputnik V and CanSino, either used or contracted for use in a number of Latin American countries, will not be accepted.
September 26 — Costa Rica's president and health minister announce their intention to pass a mandate declaring that all public sector workers in the country receive a Covid vaccine by October 15. This is passed as an official decree on October 12. It comes as legal battles mount in the United States over similar vaccine mandates for government employees.
The government also announced on October 13 that, starting December 1, vaccination proof would be required to enter most businesses and public events in the country. However, on October 23, the government pushes the start date of those regulations to January 8.
September 25 — Cuba sends an initial shipment of its homegrown Abdala vaccine to Vietnam, the first country abroad to have a supply contract with the Communist island. Cuba says it can produce 100 million annual doses of its three viable vaccines: Abdala, Soberana 2, and Soberana Plus. Argentina, Mexico, and Venezuela have all expressed interest in Abdala, which lacks recognition from the World Health Organization.
On October 2, Nicaragua authorized two Cuban vaccines—Abdala and Soberana 2—for emergency use.
September 21 — PAHO selects manufacturing sites in Argentina and Brazil to become regional hubs for the production of mRNA vaccines, namely Moderna.
September 20 — A member of Brazil's delegation to the UN General Assembly tests positive for Covid. The UN is asking all attendees of the New York City-based conference to be vaccinated on the honor system. However, Brazilian President Jair Bolsonaro, slated to give the first speech to the Assembly, has denied he is vaccinated.
September 14 — Mexico concludes its three-month long campaign to drive up vaccination rates in 45 border communities.About 90 percent of adults in these communities are vaccinated. The government aimed to align vaccination rates with those of neighboring U.S. communities with the hope of creating conditions hospitable to reopening the border, closed to non-essential travel since March 2020. The United States donated Johnson & Johnson doses to aid in the vaccination campaign along the border.
However, the U.S. government announced on September 20 that it is extending its land border restrictions with Mexico until October 21.
Mexico also began vaccinating border workers' children, aged 12 to 17, in the state of Coahuila. On a national level, as of this date, people under 18 without comorbidities are not eligible for the vaccine in Mexico.
September 13 — Mexico's deputy minister of health tells La Jornada that one million children between 12 and 17 years old with risk factors will be eligible for vaccination. This comes days after Mexican President López Obrador announces an investigation into the injunctions filed by states against the prohibition of vaccinating children aged 12 to 18.He, along with the country's chief health official focused on Covid, maintained that it is scientifically inadvisable to give doses to those under 18. Meanwhile, on September 6, Chile approves the use of Sinovac on children 6 and older.
September 7 — Mexico continues its regional donations, sending 150,000 doses each to Honduras and Bolivia.
September 7 — Venezuela finally receives its first shipment of vaccine doses through the WHO-backed COVAX program as 693,600 doses of Sinovac arrive in the country out of the 12 million that were ordered through the vaccine equity program. Over the summer, Venezuela struggled to make its $120 million payment to COVAX, as its money kept getting blocked due to sanctions. It finally completed the payment on July 8, 2021.
However, the next day, COVAX announced plans to lower its expectations for dose deliveries through 2021 by 25 percent.The original goal was for COVAX to deliver 280 million doses in 2021.
September 6 — Peru reaches an agreement with the Russian government over the construction of a domestic plant for the production of Sputnik V. The vaccine has not yet been distributed in the country, nor is it approved.
September 6 — Brazil's health regulator Anvisa suspends the distribution of 22 million Sinovac doses due to the vaccine being filled into vials at an unauthorized production base. There is a 90-day suspension in place as Anvisa conducts an investigation.
September 2 — Bolsonaro signs a law that allows vaccine and medical patents to be broken during a medical emergency by the president's discretion. However, Bolsonaro vetoes the part of the law that mandates patent holders to transfer technology and help supply raw materials to produce their medication.
August 29 — Date that Cuba, which has only administered homegrown vaccines Abdala and Soberana, says it will begin to use China's two-dose Sinopharm vaccine.
This comes after the Cuban government said it would produce enough shots to inoculate the island's population and, on August 20, authorized its Soberana 2 and Soberana Plus for emergency use on August 20. Cuba also announced that it will vaccinate children two and up with its homegrown vaccines. It is the first country in the world to vaccination children so young.
August 26 — Pfizer-BioNTech announces a partnership with Brazilian biopharmaceutical firm Eurofarma Laboratórios SA to produce 100 million doses of the two-dose Pfizer shot for distribution in Latin America. Production is slated to start in 2022.
August 13 — Argentina's Richmond laboratory, which is producing Russia's Sputnik V vaccine domestically, delivers over 990,000 first doses and 150,000 second doses component to the Health Ministry to inoculate the population. This first batch comes at a time of delivery delays from Russia.
August 11 — Brazil's Senate approves a bill allowing the president to temporarily break patents for Covid vaccines and their components, and the legislation now awaits the executive's signature. The move paves the way to more quickly obtain licensing agreements for domestic production of vaccines during states of emergency.
In July, the U.S. government announced support for waiving intellectual property protections for Covid vaccines in an effort to increase international production efforts.
Also on August 11, the Pan American Health Organization (PAHO) announces it will expand access to Covid vaccines in Latin America, meaning it will go beyond the COVAX Facility's coverage commitment of enough doses for 20 percent of countries' populations.
August 6 — Spain completes its first COVAX donation involving 22.5 million AstraZeneca-Oxford doses to Guatemala, Nicaragua, Paraguay, and Peru. This marks the first COVAX donation by an EU member to Latin American countries.
August 5 — The Inter-American Development Bank (IDB) approves a $30 million investment project to help accelerate Panama's fight against Covid-19, by fully financing vaccine contracts with COVAX and the AstraZeneca-Oxford vaccine developers. This project is part of the IDB's Vision 2025, an institutional plan to drive sustainable socioeconomic growth in Latin America and the Caribbean.
On this same day, Argentina announces it will offer AstraZeneca-Oxford or Moderna jabs to those who received a first dose of the Russian vaccine Sputnik V, to account for delivery delays from the Russian manufacturer. Over 180,000 people in the country's Buenos Aires province alone are past the 3-month period between the first and second doses as the country waits for more doses to arrive. A UK study in late June found that mixing vaccines appears to give good protection against the virus.
July 30 — El Salvador begins inoculating 12-year-olds and women at least 16 weeks pregnant.
July 29 — Brazil's Health Minister Marcelo Queiroga says his country plans to cancel a 10-million dose contract for Russia's Sputnik V shot due to lapsed registration deadlines with national regulator Anvisa. This reverses the conditional approval granted by Anvisa in June.
Brazil's cancellation comes one day after Guatemala cancels its 8-million dose Sputnik V contract due to delays in deliveries of paid shots. Several days earlier, Argentina also pressured Russia over shipment delays and threatened to cancel their contract for the doses.
July 28 — Uruguay announces it is offering Pfizer-BioNTech boosters to those who received Sinovac shots. The Dominican Republic, where Sinovac also is in use, is giving third shots as well.
July 27 — Brazil's Anvisa provisionally suspends its import authorization for Bharat Biotech's Covaxin shot. This comes after the Indian developer terminated a sales agreement with Brazil on July 23 but announced it would continue working with Anvisa to get the shot approved for use in the country. On June 22, Brazil's federal prosecution began a probe into the Health Ministry's February deal to buy 20 million doses of Covaxin. At the time, prosecutor Luciana Loureiro Oliveira admitted that the Ministry signed the contract with Bharat Biotech despite Covaxin's lack of regulatory approval and the availability of already-approved vaccines on the market at lower prices.
July 26 — The World Bank and WHO's COVAX Facility announce a financing strategy for global vaccine distribution to accelerate dose deliveries to developing economies, involving advance purchases at lower costs from vaccine developers based on aggregate demand. The World Bank and multilateral development banks will help finance these buys.
July 19 — Chile's Catholic University and Chinese manufacturer Sinovac hold a meeting in Santiago to announce potential plans for a production site for Sinovac's new vaccine, which is designed to fight the Gamma variant, or P.1—a prevalent strain in South America.
July 14 — Haiti receives its first shipment of vaccines:500,000 Moderna doses. The vaccines, donated by the United States, were delivered by COVAX as part of the Biden administration's June pledge to distribute 80 million doses worldwide.
July 9 — Cuba authorizes Abdala, the first Latin American homegrown vaccine, for emergency use. This three-dose shot is one of five Cuban vaccine candidates. This approval comes at a time of social unrest across the island amid a surge in Covid cases.
July 8 — A hurdle for COVAX vaccine shipments getting sent to Venezuela gets cleared when the country finished paying the program for financial commitments worth $120 million. Previously, payments had been blocked due to sanctions.
July 2 — The United States announces plans to send El Salvador 1.5 million doses of Moderna. Hours later, China said it would send the same quantity of Sinovac doses.
Also on this day, Argentina changes vaccine regulations to speed up efforts to access Pfizer-BioNTech, Moderna, and Johnson & Johnson. President Alberto Fernández signs a decree to smoothen language and pave the way for future vaccine donations. One day earlier, Argentine authorities announced they were studying possibilities of combining doses of different Covid shots to complete immunizations and to provide booster shots amid a surge in contagion.
June 29 — Guatemala asks Russia's Foreign Direct Investment Fund to return a portion of the $80 million the Central American government paid in early April for 8 million Sputnik V doses, of which it has only received 150,000. Guatemala's Health Minister Amelia Flores gave Russia 20 days to deliver the remaining doses.
June 27 — The COVAX Facility receives its first U.S.-donated vaccine shipment, involving 1.5 million doses headed to Honduras.
June 24 — Venezuela receives its first shipment of Cuba's Abdala vaccine. Under a 12-million dose contract, it will be the first foreign country to receive the Cuban three-dose shot. Cuban developers say the vaccine is 92 percent effective and Phase 3 trials are occurring in both Cuba and Venezuela. Back in April, Maduro said on a live television address that the country had signed a deal to produce 2 million monthly doses of Cuba's Abdala vaccine in August or September.
June 21 — An investigation reveals that in December 2020, Mexico contracted 35 million CanSino vaccines in partnership with a ghost company that didn't register its existence until after the agreement was inked. That company, the Swiss-based firm Latam Pharma, has just four employees and its board chair is a lawyer investigated as part of the Panama Papers scandal. The story came to light after, on June 8, CanSino's efficacy gets discussed in a daily evening press conference when a journalist questions Deputy Health Minister Hugo López-Gatell on the Chinese single-dose shot. In a heated exchange, López-Gatell evades clarifying what data the Health Ministry used to approve the shot. The same week, he announced the suspension of the evening press conferences.
June 16 — The World Health Organization urges the G7 countries that pledged to donate 1 billion Covid vaccine doses to prioritize Latin America as the region continues to experience high levels of contagion and mortality.
June 16 — Costa Rica rejects a planned delivery of Chinese vaccine Sinovac, citing concerns about the vaccine's efficacy.
June 12 — Mexico begins sending 400,000 AstraZeneca doses across Latin America, starting with 100,000 to Belize and 150,000 to Bolivia and Paraguay. On May 15 and for the first time since making a bilateral deal with Argentina to produce and distribute up to 250 million doses of the AstraZeneca-Oxford vaccine regionally, Mexico announces that by the end of the week it will distribute 800,000 AstraZeneca-Oxford doses and will send 800,000 to Argentina to do the same. This comes after Mexico received 1.3 million out of 4 million AstraZeneca-Oxford doses from the United States on May 20 as a result of production issues in the Mexican plant.
June 9 — The United States announces it will buy 500 million Pfizer-BioNTech doses to donate across the world in 2021 and 2022 through the COVAX Facility—the latest move in U.S. efforts to ramp up global vaccine rollouts. This plan expands an earlier U.S. commitment to donate 80 million doses by the end of June. Of that 80 million, 75 percent—or 60 million shots—will be distributed through COVAX. Latin America will receive about 20 million of the COVAX-designated shots. The rest of the total donated shots, or about 20 million, will go to countries deemed regional priorities for the United States, including the following countries in the Americas: Argentina, Colombia, Costa Rica, the Dominican Republic, Haiti, Mexico, and Panama. The 80 million doses expected to go out in June include the 60 million doses of AstraZeneca-Oxford pledged in late April.
Previously—and ahead of her visit to Guatemala and Mexico—U.S. Vice President Kamala Harris announced that Washington would give Mexico 1 million Johnson & Johnson doses. Mexico announces on June 4 that it will use these doses in the U.S.-Mexico border area as part of efforts to normalize crossings.
The U.S. government announced its support for waiving intellectual property protections for COVID-19 vaccines in an effort to increase international production efforts. The move comes in response to growing concern over vaccine access in poorer countries and to surges in contagion in many developing regions, including South America. Some, though, are concerned that this move would undermine vaccine safety.
June 5 — Venezuela announces an agreement to acquire 10 million doses of the Russian EpiVacCorona vaccine. Previously, the country hosted trials of the vaccine. Though details have not been released, Venezuela plans to manufacture doses of the vaccine locally. The next day, Brazil's Uniao Quimica announces an agreement with a Russian lab to produce EpiVacCorona. Neither country has approved the vaccine yet.
June 3 — Chile ups the eligible age for men to receive the AstraZeneca-Oxford shot from 18 to 45 years and also suspends the second dose for this shot while authorities investigate a blood-clot case involving a 31-year-old male recipient of the vaccine. The revision matches regulations for women, where only those 45 and over can get the due to blood clot concerns.
May 15 — Venezuela becomes the first Latin American country to approve for emergency use the single-dose Russian shot Sputnik Light. Five days later, Nicaragua approved it as well. On May 6, Russia's regulator authorized the single-dose shot, which has the same component as what's in the first dose of the two-shot Sputnik V. The Russian Direct Investment Fund, responsible for distributing Russian vaccines abroad, said in a statement that Sputnik Light's efficacy rate was at 79.4 percent according to real-world data, though final-stage trial results are slated to come out in coming weeks.
May 20 — After beginning production in January, Brazilian pharmaceutical company União Quimica releases the first 100,000 doses of a larger batch of Sputnik V vaccines using supplies sent from Russia. The vaccines will be shipped to neighboring South American countries, given that Brazil's regulator Anvisa has yet to approve this shot. Argentina was the first Latin American country to produce test batches of this vaccine on April 20.
May 13 — El Salvador sends 34,000 doses of the AstraZeneca-Oxford vaccine to seven Honduran towns after their mayors posted pleas on social media.
May 12 — Brazilian regulator Anvisa pauses the administration of the AstraZeneca-Oxford shot on pregnant women after one 35-year-old expecting mother died from a stroke. The incident's relation to the vaccine is under investigation.
On the same day, Mexican authorities announce that Pfizer will request approval from health regulator Cofepris to immunize 12- to 15-year-olds with the Pfizer-BioNTech vaccine. The U.S. Food and Drug Administration approved this measure two days earlier.
May 10 — Brazilian President Bolsonaro announces the country will spend an additional $1 billion to acquire more COVID-19 vaccines. Bolsonaro is currently being investigated over his handling of the pandemic crisis.
May 1 — Vaccine developer AstraZeneca confirms delays to production of the AstraZeneca-Oxford vaccine in Latin America, excluding Brazil, but announces it will commit to delivering 150 million doses to the region in 2021. Delays pertain to shortage of critical supplies and delays to meet internal controls. As a result of the announcement, Mexican President López Obrador announces that the United States may send his country 5 million additional AstraZeneca-Oxford doses, after Washington sent roughly 2.7 million doses to Mexico in March.
April 30 — Brazil's regulator Anvisa approves the start of domestic production of AstraZeneca-Oxford's vaccine at Rio de Janeiro's Fiocruz biomedical institute. Brazil's Health Ministry signed an agreement with AstraZeneca Brazil for local production of the Oxford vaccine in June 2020 in a $127 million deal.
April 28 — Russia's Direct Investment Fund, the sovereign fund backing Sputnik V, announces that Mexico will begin production of the Russian shot in May 2021. The Birmex institute will assemble the active ingredients in Mexico with aims to produce the vaccine from scratch at a later date.
April 26 — Brazil's Anvisa rejects the importation of Russia's Sputnik V vaccine requested by state governors due to lack of sufficient information to assess its safety. Back in March, the government had signed an agreement to purchase 10 million Sputnik V doses.
April 21 — Spanish Prime Minister Pedro Sánchez announces his government will donate 7.5 million vaccine doses to Latin America and the Caribbean after July 2021, when it's expected that at least 50 percent of Spain's population will be fully vaccinated. The government did not specify what vaccines will be donated.
Also on this day, Pfizer announces it identified the first confirmed instances of fake Pfizer-BioNTech vaccines in Mexico and Poland after authorities seized counterfeited vials in separate investigations. In Mexico, 80 people received the fake vaccines at a price of $1,000 a dose.
April 20 — Argentina becomes the first Latin American country to produce test batches of Russia's Sputnik V two-dose vaccine. Russia's Gamaleya Institute—the producer of the vaccine—will inspect the test shots for quality, with mass production slated to begin in June. Five days later, Mexico's Foreign Minister Marcelo Ebrard visits Moscow to lay out plans for domestic production with state-run manufacturer Birmex.
On the same day, Mexican President López Obrador receives the first dose of the AstraZeneca-Oxford vaccine. He previously indicated that he would not be getting the vaccine due to having "sufficient antibodies" post infection.
April 10 — Paraguay's Health Ministry pauses inoculations with AstraZeneca-Oxford's vaccine to citizens under 55 years of age, given recent concerns about blood-clot risks in Europe. Those who received the first AstraZeneca dose will be monitored and, if deemed safe, may take the second dose. Other available shots include Russia's Sputnik V or India's Covaxin, though only the former is approved for emergency use.
April 4 — El Salvador's President Nayib Bukele announces the country will receive 150,000 additional doses donated by China. This comes one week after the country received 1 million Sinovac doses, which will be administered on priority groups such as healthcare workers, educators, police, and military personnel. Given that the vaccine requires one shot, the delivery is enough to cover 15 percent of the country's population. President Bukele tweeted that these shots are part of a 2-million-dose deal with the Chinese manufacturer. El Salvador switched diplomatic recognition from Taipei to Beijing in 2018.
Also, across the region, events undermining vaccine confidence are taking place. Mexico City's health authorities announce they fired a nurse from her duties who was filmed vaccinating an elderly with an empty syringe and the video circulated in social media, and Colombia reported similar cases of empty-syringe inoculation. In Bolivia, authorities jailed two nurses who allegedly hoarded 500 vaccine doses in a Northeast town near the Brazil border.
March 26 — Brazil announces its first homegrown vaccine, Butanvac, produced by São Paulo's Butantan Institute, which is also manufacturing China's Sinovac shot. The shot awaits clinical trials. Butanvac would be the first COVID-19 shot entirely developed and produced in the country. On the same day, Brazil's health regulator Anvisa announces it also received requests to approve Phase 1 and 2 trials for another vaccine, Versamune, produced by Brazilian laboratory Farmacore in conjunction with U.S. lab PDS Biotechnology.
March 25 —The Nicolás Maduro regime announces that Venezuela will not authorize the use or the importation of AstraZeneca-Oxford, the first vaccine scheduled to arrive to the country through the COVAX mechanism. This comes after Venezuela's opposition leader Juan Guaidó and de facto President Maduro agree to use $30 million to buy vaccines through the WHO's COVAX Facility, involving $12 million for temperature control equipment and $18 million for the first vaccine shipment. The opposition government said it would ask Washington to unfreeze funds currently held in U.S. accounts related to sanctions against the Maduro government so that the cash could be used for vaccine acquisition.
March 18 — The United States announces a plan to loan 2.5 million AstraZeneca-Oxford doses to Mexico as part of a deal that would also see Washington send 1.5 million of its stockpiled doses to Canada. The announcement came after an early March virtual bilateral presidential meeting during which Mexican President López Obrador requested vaccine support from his U.S. counterpart Biden. On the following day (March 19) Foreign Minister Ebrard said the United States would be sending 2.7 million doses and denied that the vaccine delivery was connected to Mexico's decision to fortify its southern border with Guatemala to stem migrant flows, although the country's deputy health minister did suggest the tighter border restrictions would help prevent the pandemic's spread.
March 17 — After several European countries halted use of AstraZeneca-Oxford doses over reports of post-vaccination blood clots, the WHO announces it recommends the vaccine's use saying that "the benefits outweigh it risks." The vaccine is slated for use in several Latin American countries.
March 14 — Chile's rapid vaccination program reaches Antarctica, with Santiago sending doses of China's Sinovac shot to a Chilean research base on the continent's King George Island. Antarctica was the last continent to report a COVID-19 outbreak.
March 10, 2021 — Only 10 days after starting to administer vaccinations, Uruguay surpasses Argentina and Mexico—who began vaccinating citizens in late December—in terms of per capita doses administered, reaching 4.25 per 100 people. The country began vaccinations March 1 and, if it maintains this pace, could immunize its population in just four months.
March 9 — Chile surpasses Israel in daily vaccine dose administrations per capita with a rolling seven-day average of 1.08 daily doses per 100 people over one week, becoming the world leader.
March 6 — Chile donates 20,000 doses of the Chinese Sinovac shot to both Ecuador and Paraguay. On February 25, Ecuador announced a deal to buy 2 million Sinovac shots.
March 1, 2021 — Colombia becomes the first country in the Americas to receive vaccines through the COVAX program as a shipment of 117,000 Pfizer-BioNTech vaccines lands in Bogotá. The country expects to receive 20 million doses of vaccines through this mechanism in 2021.
November 25, 2020 — Vaccine manufacturer COVAXX announces it received purchase agreements amounting to $2.8 billion to deliver doses globally, including to Brazil, Ecuador, and Peru. The laboratory expects to produce 100 million doses in first half of 2021 and 1 billion by the end of the year.
August 12 — Argentine President Fernández announces that the national laboratory mAbxience signed an agreement with AstraZeneca and Oxford University to produce a COVID-19 vaccine, in Phase 3 of testing. The president said that between 150 and 250 million doses would be available for distribution across Latin America within the first six months of 2021. Brazil is not included in this projection, as it has its own agreement for production and distribution with the British entities. Argentina also agreed with Mexico that, while the first stage of production—making the active substance—will take place in Argentina, the final steps will take place in Mexico's Biomont laboratory.
The same day, Mexican Foreign Minister Ebrard says Mexican billionaire Carlos Slim will finance production of the Oxford-AstraZeneca vaccine in partnership with Argentina to be distributed across Latin America.
July 22 — After a meeting between the Chinese Foreign Ministry and a number of Latin American and Caribbean counterparts—Argentina, Barbados, Chile, Colombia, Costa Rica, Cuba, Dominican Republic, Ecuador, Mexico, Panama, and Peru—the Mexican government announces that Chinese Foreign Minister Wang Yi offered a $1 billion loan to assist Latin America and the Caribbean's access a Chinese vaccine.
June 27 — Brazil's Health Ministry signs an agreement with AstraZeneca Brazil for local production of the Oxford vaccine, a $127 million deal to produce it with leading public health entity Fundação Oswaldo Cruz, or Fiocruz, with the goal of producing 30 million doses by January 2021. One day earlier, President Bolsonaro announces he will set aside roughly $356 million to buy the first 100 million doses of this vaccine and support domestic production.
May 29 — The WHO, along with the Costa Rican government, launches the COVID-19 Technology Access Pool, an initiative aiming to make vaccines, tests, treatments, and other health technologies to respond to the virus widely accessible. The program is the brainchild of President Carlos Alvarado, who on March 24 requested that the global health entity create a repository of information for all member countries.
April 20 — The UN General Assembly adopts Mexico's proposed resolution 74/274 calling for international cooperation to ensure global access to medicines, vaccines, and medical equipment to confront COVID-19. This comes after President López Obrador proposed at the March 26 G20 Summit that the international body intervene to ensure equal access to medicine, vaccines, and equipment for all countries.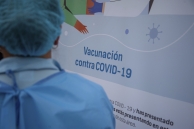 What Is COVAX and What Does It Mean for Latin America?
The WHO program that seeks to correct for global vaccination inequities has distributed 93 million doses across the region.
Efficacy Notes
Efficacy rates, which clinical trials report, show the degree to which the contraction of the disease was reduced in a group of participants. The WHO recommends for a vaccine to have at least 70 percent efficacy or higher, with 50 percent considered the minimum.
Clinical testing for vaccines usually occurs in three phases: phase 1 involves testing dosage safety on a small group of volunteers, phase 2 extends trials to a wider group, and phase 3, prior to limited use and approval, involves large-scale testing to compare infection rates from those given placebo vaccines.
Chinese Vaccines
Some Chinese vaccines have drawn questions about efficacy. Latin America has contracted Chinese doses from several developers, including Sinovac, Sinopharm, and CanSino. A Chinese disease control official said in April that Chinese vaccines offer lower-than-desired protection rates against COVID-19, and the country was considering different strategies to boost effectiveness, such as combining ingredients.
Also in April, São Paulo's Butantan Institute, which develops China's Sinovac shot for distribution in the country, announced study findings that show the shot is 50.7 percent effective against mild Covid-19 cases, 83.7 percent effective against moderate cases, and 100 percent effective against severe cases. In addition, research showed the shot is equally effective against the original L strain, Brazil's P.1 variant, and a lesser-known P.2 strain. In January, Brazil's Butantan Institute said efficacy rates for the Sinovac shot—with which the São Paulo entity began clinical trials in July—is 50.4 percent, and not 78 percent as they announced previously less than a week earlier. The efficacy rate fell nearly 28 points when factoring in data from all trial participants, including "very mild" cases and those with no medical assistance needed, while the 78 percent effectiveness pertained to mild to severe cases only, according to the Institute.
In January, Chile's government confirms that despite the Chinese Sinovac vaccine's low efficacy rate, it will administer 60 million doses over three years as planned.
Chinese vaccine CanSino's late-stage trial results showed a 65.7 percent efficacy rate for preventing symptomatic cases of COVID-19.
AstraZeneca-Oxford Vaccine
Several early hiccups in the testing of the AstraZeneca-Oxford vaccine caused concern about the vaccine's safety but were subsequently resolved.
In October, Anvisa announced the death of a volunteer in Brazil's Oxford-AstraZeneca clinical trial, but media reports indicated the volunteer was in a control group and did not receive the vaccine. After a review, Oxford University continues the trial without pause.
Sputnik V
Russia's Sputnik V vaccine faced concerns over its efficacy until February 2021 when The Lancet released an article with study findings that the Sputnik V vaccine has a 91.6 percent efficacy rate in a study with 20,000 participants, putting to rest some transparency concerns. On the same day as the article, Mexico approved emergency use of the Russian vaccine.
In October, the Russian Direct Investment Fund claimed that Sputnik Light, which is essentially the first dose of the Sputnik V vaccine, has a 70 percent efficacy rate against the Delta variant.
In April, Brazil's regulator Anvisa said it lacked sufficient information to assess the safety of the Sputnik V vaccine after the Northeastern state of Maranhão sent the Supreme Court an emergency request to allow its import. Nine Latin American countries had approved the Russian vaccine for emergency use at this time.
Homegrown Vaccines
Latin America has several homegrown vaccines, including Abdala, Soberana, Soberana 2, and Mambisa in Cuba, Patria in Mexico, and Butanvac in Brazil. Only Abdala has approval in any country.
In July, Brazil's regulator Anvisa approved clinical trials for its homegrown Butanvac shot produced by São Paulo's Butantan Institute for clinical trials.
Cuba's Abdala vaccine, one of five being developed in the island, showed an efficacy rate of 92.28 percent according to Genetic Engineering and Biotechnology Center (CIGB), the national vaccine developer. The trials for this vaccine took place in both Cuba and Venezuela. Meanwhile, Cuba's Soberana 2 vaccine showed positive preliminary-trial results with a 62-percent efficacy rate and only two of the inoculation's three doses, according to national biopharmaceutical firm BioCubaFarma. Phase 3 trials ended on March 31. However, little data is available to the international community on either vaccine, making efficacy claims hard to corroborate. None of the other Cuban vaccine candidates have made it to the Phase 3 trial, which is the final step before approval.
 In April, Mexico announced that Phase 1 clinical trials for the homegrown Patria vaccine were beginning, with 100 volunteers between 18 and 55 years of age in the capital.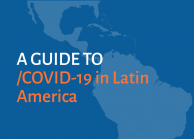 A Guide to COVID-19 in Latin America
Get resources on government responses, vaccine rollouts, and health impacts in the region.