What Is COVAX and What Does It Mean for Latin America?
The WHO program that seeks to correct for global vaccination inequities has distributed almost 18 million doses across the region.
On March 1, Colombia became the first country in the Americas to receive vaccines through COVAX when a shipment of 117,000 Pfizer-BioNTech vaccines landed in Bogotá.
COVAX, a program run by the World Health Organization (WHO) with the goal of promoting vaccine equity worldwide, promises to deliver 31 million doses to Latin America by the end of June.
About 57 percent of those doses have already been delivered, meaning about 18 million doses in all. The pace of deliveries has varied across the region, though in general it has been slower than expected. Four countries—Argentina, Colombia, El Salvador, and Paraguay—received all their deliveries slated through the end of June. However, Bolivia, the Dominican Republic, Ecuador, Haiti, Honduras, Panama, and Peru have all received less than 50 percent of their allocations through June. Globally, COVAX has delivered about 68 million doses, which is just 3.4 percent of its goal to deliver 2 billion doses by the end of 2021.
AS/COA Online explains what the program is and how it is contributing to Latin America's overall vaccination effort.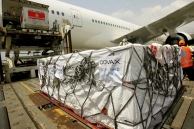 ¿Qué es COVAX y qué significa para América Latina?
La iniciativa de la OMS que busca corregir las inequidades globales de la vacunación ha distribuido casi 18 millones de dosis a través de la región.
Timeline: Tracking Latin America's Road to Vaccination
AS/COA Online covers major developments and vaccine rollouts as countries strive to reach herd immunity.