What Is COVAX and What Does It Mean for Latin America?
The WHO program that seeks to correct for global vaccination inequities has distributed 93 million doses across the region.
On January 15, COVAX, the global initiative run by the World Health Organization with the goal of promoting vaccine equity worldwide, delivered its one billionth Covid vaccine. It was a major milestone, even if it fell short of the organization's original goal to deliver 2 billion doses by the end of 2021. Since its founding in April 2020, COVAX has been plagued by supply delays and funding issues that have hampered its efforts to get vaccines to low-income countries. 
Latin America has received 93 million doses* from the program, which is administered regionally by the Pan American Health Organization. That means almost one out of every eleven vaccine doses administered in Latin America is a COVAX dose.
AS/COA Online explains what the program is and how it is contributing to Latin America's overall vaccination effort.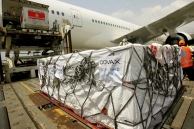 ¿Qué es COVAX y qué significa para América Latina?
La iniciativa de la OMS que busca corregir las inequidades globales en vacunación ha distribuido 93 millones de dosis a través de la región.
Timeline: Tracking Latin America's Road to Vaccination
AS/COA Online covers major developments and Covid-19 vaccine rollouts as countries strive to return to normalcy.