Music of the Americas: Magos Herrera and En Casa
En Casa this week features piano solos, a clarinet/guitar duo, and the recording of Magos Herrera's latest concert on our stage.
This week, En Casa features two piano solos by Águeda Garay and a new video by Arturo O'Farrill, alongside the Costa Rican duo of Lenin Izaguirre & Alonso Torres Matarrita.
On Friday, we share the video of Magos Herrera's concert in our hall in April. 
Recuerdos will be back next week.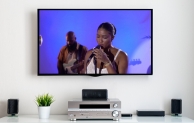 En Casa: El próximo capítulo
The Music of the Americas video series brought art into homes when we needed it most. Support the next chapter of En Casa and let's keep the music alive!