Explainer: Who's Who in Colombia's 2022 Presidential Race
A field of largely centrist candidates will have an electoral test in March, two months before the first-round presidential vote.
Besides the pandemic and related economic slump facing many countries, Colombia also finds itself dealing with problems related to Venezuela, regional migration, and trafficking routes. With so many issues bubbling, the race to replace Iván Duque is heating up quickly—and early. The country's 2022 presidential votes officially take place in May with a potential June runoff, but a vote two months earlier could be more decisive: the March 13 interparty consultations. The consultations function as primaries between candidates from similar areas of the political spectrum. In 2018, there were two: one for left-wing candidates, won by Gustavo Petro, and a second for conservatives, won by Duque. In 2022, there will likely be a third one for candidates who could be considered centrists.
The 2018 race was a divisive one, and, in a country with a history of political violence, Colombian voters have ample reason to be wary of the polarization. Since those elections, 4 million young Colombians have gained the right to vote, a more than 10 percent boost to the voter rolls. Polling from June indicates a trend toward the center, especially among those younger voters.
Along with the presidential consultations, Colombians will also vote for legislators on March 13, and that vote will serve as an indication of which candidates will have popular backing heading into the presidential contest. Political groups in Colombia start out as movements, and then once they demonstrate sufficient popular support, the national electoral body officially recognizes them as a political party. Candidates who represent a movement must run under the banner of a coalition. Once a party, candidates can run on the party's own ticket and also field legislative candidates. The Democratic Center currently heads the governing coalition in both national legislative bodies.
The first-round presidential election takes place May 29, with a runoff on June 19 if no candidate gets more than 50 percent of the vote. Presidents in Colombia are limited to one, four-year term. The runner-up in the presidential race gets a seat in the Senate while his or her running mate earns a seat in the House of Representatives.
Below we highlight some of the early candidates contesting the various consultations. Given that the field will evolve as candidates gain name recognition and others join and drop out, we've included a chart on how favorably voters see each figure.
This piece was originally published October 4 and is updated as the race evolves.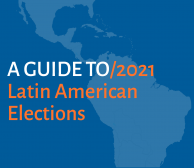 A Guide to 2021 Latin American Elections
In 2021, ten countries in Latin America hold elections—five of them presidential contests—while reeling from the pandemic's devastating impact.