Poll Tracker: Colombia's 2022 Presidential Election
See how the competition between presidential hopefuls is shaping up ahead of the May 29 first-round vote.
Colombians could be poised to see a notable political shift in their country. Ahead of the May 29 first-round vote, the frontrunner is Gustavo Petro, a former leftist guerilla who has served as mayor of Bogotá and is serving as senator. In 2018, he lost the presidential runoff to Ivan Duque. He won the left's primary-like interparty consultation in March with more votes than any candidate in any of the three competitions.
A field of candidates is hoping to catch up to Petro, and it's not clear who his rival would be in the likely event of a runoff. The conservative Team for Colombia coalition's Federico "Fico" Gutiérrez, a former Medellín mayor, has generally polled second. But as election day approaches, Rodolfo Hernández, ex-mayor of Bucaramanga, is on the rise. Hernández is running a social media-driven, anti-establishment campaign.
Meanwhile, ex-Governor of Antioquia Sergio Fajardo, who represents the centrist Hope Center coalition, has seen his hold on third place slip. In what some saw as an upset, Fajardo narrowly missed out on the 2018 runoff.
The remaining candidates are polling below 1 percent. Ingrid Betancourt, a former FARC hostage, dropped out of the race on May 20 and backed Hernández.
This tracker was initially published on April 13, 2022, and has since been updated.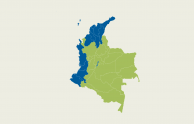 Poll Tracker: Colombia's 2022 Presidential Runoff
See how the matchup between Gustavo Petro and Rodolfo Hernández is shaping up ahead of the June 19 vote.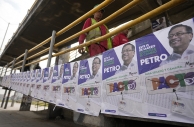 Explainer: Who's Who in Colombia's 2022 Presidential Race
Will the country change political course? Ahead of the May 29 first round, we look at the top presidential candidates.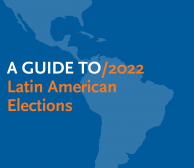 Guide to 2022 Latin American Elections
AS/COA covers this year's votes in the Americas, from presidential elections to referendums.