LatAm in Focus: How VP Choices Are Shaping Presidential Races in Colombia and Brazil 
Colombia Risk Analysis' Sergio Guzmán and Fundação Getulio Vargas' Thomas Traumann cover vice-presidential picks in the region's two big 2022 elections.
The choice of a running mate gives a presidential hopeful a chance to widen the net, solidify a profile, or win over a rival's supporters. Knowing that, what can we glean from vice-presidential choices in Brazil and Colombia, which both hold game-changing elections in the coming months?
First up is Colombia's presidential vote on May 29, in which the highest-profile running mate is arguably Francia Márquez, an Afro-Colombian environmental activist sharing the ticket with frontrunner and leftist Senator Gustavo Petro. Márquez rose to prominence as a presidential candidate during interparty consultations, when she won more votes than some other big-name contenders.
As Director and Co-founder of Colombia Risk Analysis Sergio Guzmán explains, Márquez's rising status got her on Petro's ticket. "What Francia does is bring the interests of particular communities that haven't previously been engaged in the political battle," says Guzmán. "And she does it without necessarily making Petro more appealing to the center, which is going to be one of his major problems."
Other candidates' VP selections speak to the importance of reaching new voters beyond traditional centers of power as well. Conservative Federico "Fico" Gutiérrez, polling second, made a play for the rural vote by choosing Rodrigo Lara Sánchez, a former mayor of a secondary city and the son of a famed justice minister assassinated under order of Pablo Escobar. Centrist Sergio Fajardo, coming in third, went for an experienced choice in Afro-Colombian former Governor of Chocó and ex-Environment Minister, Luis Gilberto Murillo.
Of eight presidential tickets, five include Afro-Colombians. "That's impressive in and of itself, but it also underscores the effect that Francia Márquez has had on the campaign," says Guzmán. "It just elevates the issue of diversity, it elevates the issue of inclusion, and it makes this a fundamental turning point for Colombian politics going forward."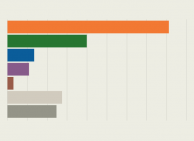 Poll Tracker: Colombia's 2022 Presidential Election
See how the competition between presidential hopefuls is shaping up ahead of the May 29 first-round vote.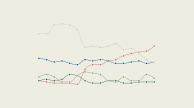 Poll Tracker: Brazil's 2022 Presidential Election
See how competition between presidential hopefuls is shaping up ahead of the October 2 first-round vote.