Colombia Update: Results from the 2015 Local Elections
It may not be a surprise that Enrique Peñalosa will be Bogota's next mayor, but Federico Gutiérrez's win in Medellin was an upset.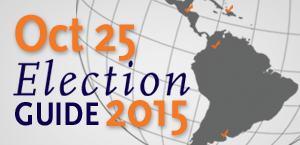 It may not be a surprise that Enrique Peñalosa will be Bogota's next mayor, but Federico Gutiérrez's win in Medellin was an upset on October 25. Voter turnout hit 59.3 percent nationwide in a country that struggles to hit 50 percent in presidential votes. Winners in Sunday's elections will all be sworn in to four-year terms on January 1, 2016.
Mayor of Bogota: Enrique Peñalosa
While it wasn't a surprise that coalition candidate Enrique Peñalosa won with 33.1 percent—he'd led almost every poll for the last couple months—what was notable were the showings of the runners-up: Rafael Pardo (28.5 percent) was closer than many polls predicted, and the Alternative Democratic Pole's (PDA) Clara López (18.3 percent) farther back. Francisco Santos of the Democratic Center, the party of former President and current Senator Álvaro Uribe, came in fourth with 12.0 percent. López's alliance with her party colleague and outgoing mayor Gustavo Petro, who faces a 56 percent disapproval rating, likely did not help. After three successive winning candidates, this was the first time in 12 years that the PDA lost control of the mayor's office. Peñalosa will serve his second term in Colombia's second most-powerful position, which he also held from 1998 to 2001.
"Vamos a hacer una Bogotá a la altura de nuestros sueños más ambiciosos": @Enriquepenalosa https://t.co/UWdx8aYF8X #Elecciones2015

— EL TIEMPO (@ELTIEMPO) October 25, 2015
Mayor of Medellin: Federico Gutiérrez
In arguably the biggest upset of the night, Federico Gutiérrez edged out Democratic Center's Juan Carlos Vélez by 1.3 points (35.6 percent to Vélez's 34.3). Gutiérrez, a civil engineer by training, ran four years ago in the same race with backing from Uribe and came in third. This time around he ran as an independent and will take the place of popular outgoing mayor Aníbal Gaviria. 
Governor of Antioquia: Luis Pérez
In the race to replace Sergio Fajardo, businessman Luis Pérez (Liberal and Radical Change parties) won comfortably over Andrés Guerra (Democratic Center), 39.4 to 29.5 percent. Pérez was previously mayor of Medellin in the early 2000s and is known for implementing the city's Metrocable gondola system.
Mayor of Cali: Maurice Armitage
Businessman Maurice Armitage won the mayoral race for Colombia's third-largest city with 38.2 percent of the vote, over the Liberal Party's Roberto Ortiz (25.33 percent) and Party of the U's Angelino Garzón (21.6 percent), a former vice president. During the campaign, Armitage repeatedly told local media that the longest he'd ever been out of the city was two months in 2002, when he was kidnapped by a faction of the Revolutionary Armed Forces of Colombia, known as the FARC. 
Also in the Valle department, Career politician Dilian Francisca Toro (Party of the U) won the gubernatorial race by a 10-point margin over her closest competitor.