Registration: 8:00 a.m. to 9:00 a.m.

Conference: 9:00 a.m. to 2:45 p.m....

Live broadcast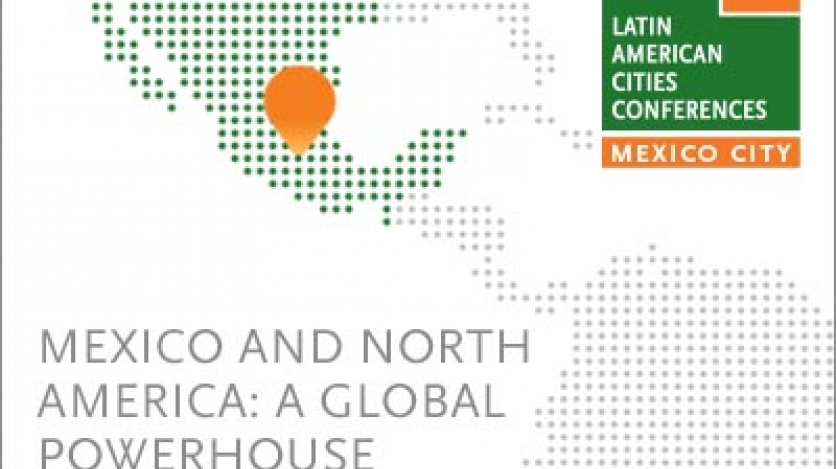 2017 Latin American Cities Conferences: Mexico City
AS/COA will hold its annual conference in Mexico City, Mexico, on Tuesday, May 23, 2017.
Overview
MEXICO AND NORTH AMERICA: A GLOBAL POWERHOUSE
 
Webcast brought to you by
 
Follow the discussion on Twitter: #mxASCOA | @ASCOA
Mexico, the United States, and Canada make up one of the most competitive regions in the world. The three economies have become tightly integrated since the adoption of the North American Free Trade Agreement (NAFTA), making relations between the three countries more important than ever. Since NAFTA's conception, North American integration has allowed the three countries to compete in global markets, accounting for 12 percent of world trade, 28 percent of global GDP, and 26 percent of the world's foreign direct investment flows.
The region has the potential to continue to show strong leadership, however. As its three heads of state have said, NAFTA would benefit from modernization, and future talks present an opportunity to include and update provisions that generate economic prosperity throughout the North America region while strengthening trilateral ties.
For its tenth consecutive year, Americas Society /Council of the Americas (AS/COA) will bring its Latin American Cities Conference to Mexico City. AS/COA, in collaboration with the Secretariat of Foreign Affairs (SRE) invites you to participate in this year's conference, which will bring together senior leaders from the private sector and high-level government officials to discuss the opportunities and challenges for North American integration.
Confirmed Speakers:
Luis Videgaray, Secretary, Secretariat of Foreign Affairs @LVidegaray @SRE_mx
Chrystia Freeland, Minister of Foreign Affairs, Global Affairs Canada @cafreeland @CanadaFP
José Antonio Meade, Secretary, Secretariat of Finance and Public Credit @JoseAMeadeK @SHCP_mx (Download his presentation.)
Ildefonso Guajardo Villarreal, Secretary, Secretariat of Economy @ildefonsogv @SE_mx
Juan Andrade, Executive Vice President of Chubb Group and President, Overseas General Insurance, Chubb @Chubb
Juan Pablo Castañon, President, Consejo Coordinador Empresarial (CCE) @jpcastanon
Juan Pablo del Valle, Chairman, Mexichem @JuanPdelvalle
Yosbel Ibarra Co-Managing Shareholder Miami office, and Co-Chair of the Latin American and Iberian Practice, Greenberg Traurig @GT_Law
Moisés R. Kalach, Director, Foreign Trade Strategic Advisory Board, Consejo Coordinador Empresarial (CCE) @moikaba @cceoficialmx
Eric Lee, Energy Strategist, Commodities Research, Citigroup @Citi
Patrick J. Ottensmeyer, President and CEO, Kansas City Southern
Brian Porter, CEO, Scotiabank @scotiabank
Carlos Manuel Rodríguez, Mexico Bureau Chief, Bloomberg News @carlos_rgz
Juan Ignacio Rubiolo, President and CEO, AES México @TheAESCorp
Carlos Manuel Sada Solana, Undersecretary for North America, Secretariat of Foreign Affairs @CarlosMSada @SRE_mx
Oscar Schmidt, Executive Vice President, CEO-Latin America, MetLife @MetLife
Susan Segal, President and CEO, Americas Society/Council of the Americas @s_segal (Read her remarks.)
Jaime José Serra Puche, Founder and President, SAI Derecho & Economía
Blanca Treviño, President and CEO, Softtek @SofttekMX
Brian Winter, Editor-in-Chief, Americas Quarterly; Vice President of Policy, Americas Society/Council of the Americas @BrazilBrian
Registration: This event is complimentary for all registrants.
Prior registration is required.
Event Information: Adán Toledo | atoledo@as-coa.org | 1-212-277-8387
Sponsorship Opportunities: Ana Calderon | acalderon@as-coa.org | 1-212-277-8358
COA Corporate Membership: Mila Fontana | mfontana@as-coa.org | 1-212-277-8331
Note: To view a list of COA corporate members, please click here.
AS Individual Membership: Felipe Marin | fmarin@as-coa.org | 1-212-277-8342
Press Inquiries: mediarelations@as-coa.org
In Partnership With:
Agenda
Agenda
Note: All times are in local Mexico City time (GMT -5), one hour behind Eastern Time.
9:00 a.m. – 9:45 a.m.   Opening Remarks
Susan Segal, President & CEO, AS/COA
Carlos Sada Solana, Undersecretary for North America, Secretariat of Foreign Affairs
9:45 a.m. – 10:30 a.m.   A Conversation on North American Relations
Susan Segal, President and CEO, AS/COA
Brian Porter, President and CEO, Scotiabank
10:30 a.m. – 11:00 a.m.   Keynote Speaker
Ildefonso Guajardo, Secretary, Secretariat of the Economy 
11:00  a.m. – 11:45  a.m.   A Dialogue on Strategic Issues in the North American Partnership
Luis Videgaray, Secretary, Secretariat of Foreign Affairs
Chrystia Freeland, Minister, Department of Global Affairs Canada
Jaime José Serra Puche, Founder and President, SAI Derecho & Economía (moderator)
11:45 a.m. – 12:30 p.m.   A Conversation on the Future of NAFTA
Moisés R. Kalach, Director of the Strategic Council of International Negotiations, Consejo Coordinador Empresarial 
Patrick Ottensmeyer, President and CEO, Kansas City Southern 
Brian Winter, Editor-in-Chief, Americas Quarterly; Vice President of Policy, Americas Society/Council of the Americas (moderator)
12:30 p.m. – 1:15 p.m.   The New North American Reality
Juan Andrade, Executive Vice President of Chubb Group and President, Overseas General Insurance, Chubb 
Blanca Treviño, CEO, Softtek 
Juan Pablo Castañon, President, Consejo Coordinador Empresarial (CCE) 
Yosbel Ibarra, Co-Managing Shareholder Miami office, and Co-Chair of the Latin American and Iberian Practice, Greenberg Traurig (moderator)
1:15 p.m. – 2:15 p.m.   Toward Hemispheric Energy Integration
Eric Lee, Energy Strategist, Commodities Research, Citigroup 
Juan Ignacio Rubiolo, President and CEO, AES Mexico
Juan Pablo del Valle, Chairman, Mexichem
Carlos Manuel Rodríguez, Bloomberg (moderator)
2:15 p.m. – 2:45 p.m.   Closing remarks 
Oscar Schmidt, Executive Vice President, CEO Latin America, MetLife (introduction)
José Antonio Meade, Secretary, Secretariat of Finance & Public Credit