Update: Xóchitl Gálvez and Claudia Sheinbaum to Compete for Mexico's Presidency 
The country's two main political alliances have selected their aspirants. What have been the surprises, similarities, and questions so far?
For many, the results were a foregone conclusion. Over the past three months, Mexico's two main political alliances held processes to select their presidential aspirants, and Xóchitl Gálvez and Claudia Sheinbaum—the frontrunners in each case—were named to compete in the country's June 2024 elections. 
Gálvez, a senator for the conservative National Action Party (PAN), is arguably the more revelatory candidate of the two. Up until a few months ago, most thought she would throw her hat in the ring to be mayor of Mexico City, but then her public sparring with President Andrés Manuel López Obrador, or AMLO, launched the self-made businesswoman into the national spotlight. She quickly rose in the polls after a June decision to compete for the candidacy of the Frente Amplio de México candidacy, an alliance of the PAN with the Institutional Revolutionary Party (PRI) and the Party of the Democratic Revolution (PRD). In the Frente's final internal poll, Gálvez earned 58 percent compared with 42 percent for the PRI's Beatriz Paredes. The alliance's process, which saw most contenders drop out before polling was completed, concluded on September 3 with a celebration of Gálvez's nomination at the Angel of Independence monument in the capital. 
Meanwhile, Sheinbaum has long been seen as a favorite to be the ruling Morena party's candidate for much of AMLO's presidency, with the hashtag #EsClaudia ("It's Claudia") resonating like a prophecy foretold. On September 6, Morena and allied parties announced the former Mexico City mayor would be the party's aspirant after winning in each of the coalition's five surveys; Sheinbaum earned an average of 39 percent compared with 26 percent for former Foreign Minister Marcelo Ebrard. 
Both alliances accused each other of holding selection processes designed to green-light preselected candidates. But that doesn't mean there weren't surprises. Here's a quick look at the overlaps, the unexpected events, and what to look for next in this electoral cycle, which concludes with a June 2, 2024 general election.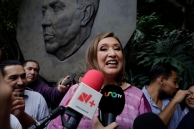 Can Xóchitl Gálvez Save Mexico's Opposition?
Morena's hold on AMLO's succession became less of a certainty after the senator announced her bid to run for president.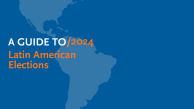 A Guide to 2024 Latin American Elections
AS/COA covers 2024's votes in the Americas, from presidential elections to referendums.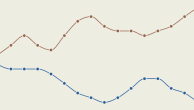 Poll Tracker: Contenders for Mexico's 2024 Presidential Vote
Though elections won't take place until June 2024, the two main political coalitions are announcing their candidates by September 6, 2023.