Poll Tracker: Contenders for Mexico's 2024 Presidential Vote
Though elections won't take place until June 2024, the two main political coalitions are announcing their candidates by September 6, 2023.
This tracker was originally published on June 15, 2023 and has since been updated.

Since early in the presidency of Andrés Manuel López Obrador, Mexico's pollsters have sought to measure public opinion about his potential successors. That person won't be elected until June 2024, but López Obrador's governing Morena coalition plans to unveil its candidate on September 6. Former Mexico City Mayor Claudia Sheinbaum leads, while ex-Foreign Minister Marcelo Ebrard polls second.

On August 30, the Frente Amplio por México (FAM)—the main opposition alliance made up of the National Action Party (PAN), the Institutional Revolutionary Party (PRI), and the Party of the Democratic Revolution (PRD)—announced that PAN Senator Xóchitl Gálvez will be its presumptive candidate. Gálvez outpolled PRI Senator Beatriz Paredes in FAM surveys conducted August 27–30.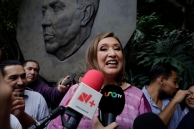 Can Xóchitl Gálvez Save Mexico's Opposition?
Morena's hold on AMLO's succession became less of a certainty after the senator announced her bid to run for president.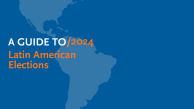 A Guide to 2024 Latin American Elections
AS/COA covers 2024's votes in the Americas, from presidential elections to referendums.