Music of the Americas 2019 Fall Concerts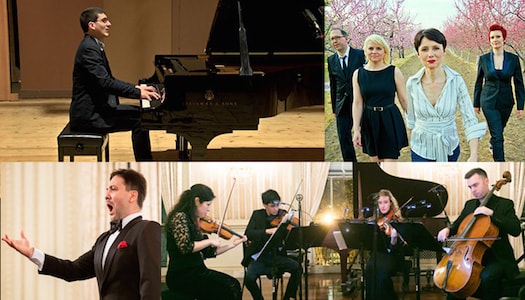 Join us this fall for the new season of the MetLife Foundation Music of the Americas Concert Series featuring exciting new sounds from Talea Ensemble and Momenta Quartet, annual favorites like the Instituto Superior de Arte del Teatro Colón, and more!
Tuesday, October 15, 7:00 p.m.
Momenta Festival V: Fifteen Years of Momenta – A Perspective
Celebrating their fifteenth anniversary, the Momenta Quartet returns to Americas Society with their annual festival, and brand new music. This year's program will include world premieres by Matthew Greenbaum, Alvin Singleton, Roberto Sierra, and Christopher Stark. 
Honoring each of their members' individual artistry, the Momenta Festival will consist of four concerts, the first two at Americas Society, with each one curated by a different member of the quartet. 
Opening night begins with selected milestones from their unique and eclectic personal repertoire curated by Momenta's founding violist, Stephanie Griffin. Along with a world premiere by Greenbaum featuring guest vocalist Brad Walker, they will also present the Chamber Music America commission of Singleton.
Griffin: Poem from Exile
Wednesday, October 16, 7:00 p.m.
Momenta Festival V: Night Dances
This second evening of the festival opens with the program Night Dances, curated by violinist Emilie-Anne Gendron.
She describes her program as "Dreamy and hallucinatory works inspired by or evocative of night music- contrasts of darkness and light, mysterious atmospheres and manipulations of time, extremes of character and emotion." This evening will feature the world premiere of Roberto Sierra's String Quartet No.3, written for and dedicated to Momenta. Also on the program is Ligeti's raucous and colorful String Quartet No.1.
Monday, October 21, 7:00 p.m.
A Night at the Opera: Instituto Superior de Arte del Teatro Colón
Each fall, Music of the Americas presents a group of exceptionally talented young singers, Estefanía Cap (mezzo), Romina Jofré (soprano), Ivana Ledesma (soprano), Marina Torres (soprano), Cristian Taleb (tenor), winners of the Alejandro Cordero Competition from the Instituto Superior de Arte del Teatro Colón which is the training division of Buenos Aires' Teatro Colón. As one of the leading opera houses in the Americas, Teatro Colón has trained artists for the world's opera and ballet stages for decades.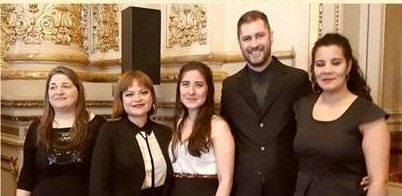 2019 Winners of the Alejandro Cordero Competition
In our twelfth consecutive year, Music of the Americas is fortunate enough to showcase these artists in an evening of opera favorites led by vocal coach and pianist Marcelo Ayub. From the tragic to the comedic, the lyrical to the light, these rising stars bring a dynamism and intimate passion all their own to the New York stage.
Tuesday, November 12, 7:00 p.m.
Giorgi Gigashvili: New York Recital Debut
Emerging piano talent Giorgi Gigashvili makes his anticipated New York City debut this fall with Music of the Americas, after winning the International Piano Competition "City of Vigo," impressing the judges led by the renowned Martha Argerich. On the program will be music by Guarnieri, Ginastera, Lizst, and others.
Chopin: Etude Op.25 No.10
Tuesday, December 3, 7:00 p.m.
Talea Ensemble: Adamcyk's Father, My Father
Father, My Father
Canadian composer David Adamcyk's new composition Father, My Father, is an evening-length concert music reflection on how the #MeToo movement has impacted him as a father. It features a selection of poems, texts, and musical quotations, amongst which are interspersed interviews with individuals of different ages on the subjects of parenthood, gender, relationships, and power. An array of loudspeakers placed around Americas Society's unique concert space play back these materials and immerse the audience in an audio-collage that alternates with original music, performed by five instrumentalists from Talea Ensemble and vocalist and collaborator Lucy Dhegrae. The result is a tightly woven musical experience that considers the changing roles, attitudes, and interpersonal dynamics of gender in society and family contexts, and contemplates how parenthood, among many other avenues, can affect positive change in the future. 
Father, My Father is made possible by a grant from the American Composers Forum with funds provided by the Jerome Foundation.
Talea Ensemble perform the World Premiere of David Adamcyk's Absolue II
Thursday, December 12, 7:00 p.m.
Eybler Quartet: Time Uncharted
For this program, Eybler Quartet gives the U.S. premieres of Pedro Ximénez de Abrill Tirado's Quartet Op.55, written in the 1820s in Arequipa, Peru, whose slow movement is based on an traditional Andean yaravi. This mostly unknown composer was active in particularly tumultuous times during his countries' history, and played a formative role in the development of local music.
The program also includes Beethoven's Quartet Op. 18 No. 5. 
This concert is part of GEMAS, a project of Americas Society and Gotham Early Music Scene, devoted to early music of the Americas.
Joseph Haydn: String Quartet Op. 33 No.1 in B minor (Hob. III: 37), IV