A Night at the Opera: Instituto Superior de Arte Teatro Colón
Americas Society
Admission: FREE for AS, and YPA Members. $20 for non-members.
Online registration for this event is now CLOSED.
(registration requests will not be taken over the phone)
Not yet a member? Learn how to become an Americas Society member to access this event.  
Each fall, Music of the Americas presents a group of exceptionally talented young singers - Estefanía Cap (mezzo), Romina Jofré (soprano), Ivana Ledesma (soprano), Marina Torres (soprano), Cristian Taleb (tenor) - winners of the Alejandro Cordero Competition from the Instituto Superior de Arte del Teatro Colón which is the training division of Buenos Aires' Teatro Colón. As one of the leading opera houses in the Americas, Teatro Colón has trained artists for the world's opera and ballet stages for decades.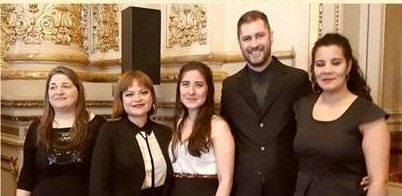 2019 Winners of the Alejandro Cordero Competition
In our 12th consecutive year, Music of the Americas is fortunate enough to showcase these artists in an evening of opera favorites led by vocal coach and pianist, Marcelo Ayub. From the tragic to the comedic, the lyrical to the light, these rising stars bring a dynamism and intimate passion all their own to the New York stage.
The 2016 winners, in a spotlight video by AS/COA's Luisa Leme.