LatAm in Focus: How Women Won Political Parity in Mexico—and What Comes Next
As two women, Claudia Sheinbaum and Xóchitl Gálvez, compete for the presidency, Aúna's Mónica Tapia explains the paradox of gender parity in Mexico. 
September 6 was a groundbreaking day for Mexico. It's not just because that's when governing Morena coalition announced that a woman—former Mexico City Mayor Claudia Sheinbaum—would be its presidential contender. After all, Mexico witnessed a woman make a bid for the presidency for the first time in 1982 and had its first candidate for a major party in 2012. But this time around though, Sheinbaum's selection came a few days after the Frente por México opposition coalition announced its candidate would also be a woman: Senator Xóchitl Gálvez. Given that Sheinbaum and Gálvez will be the two names representing the country's main political forces, it's likely that after voters cast ballots in the June 2024 election that the next president of Mexico will be a woman. 
That news has drawn new attention to the legacy of women's political leadership in Mexico. After all, on the same day Sheinbaum was named the winner of Morena's primary-like process, Mexico's Supreme Court, also headed by a woman, decriminalized abortion at the national level. The leaders of both houses of Congress, the Central Bank governor, and top cabinet posts like Interior and Foreign Relations? All women. Not only that, but Mexico achieved gender parity in its legislature and ranks fourth worldwide in terms of women's parliamentary representation—well above the U.S. rank of 71.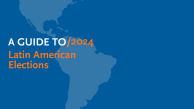 A Guide to 2024 Latin American Elections
AS/COA covers 2024's votes in the Americas, from presidential elections to referendums.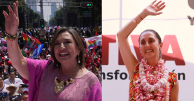 Update: Xóchitl Gálvez and Claudia Sheinbaum to Compete for Mexico's Presidency
The country's two main political alliances have selected their aspirants. What have been the surprises, similarities, and questions so far?