Explainer: Who's Who in Argentina's 2023 Presidential Race?
Learn more about candidates Patricia Bullrich, Sergio Massa, and Javier Milei, as well as their proposals to solve Argentina's economic crisis.
Weeks out from Argentina's first-round October 22 presidential election, it's a three-horse race with Patricia Bullrich, Sergio Massa, and Javier Milei all polling above 20 percent. That's unusual for Argentina, where presidential races are usually contests between two candidates, one representing the Peronists and the other the anti-Peronists. 
But now, two major candidates in this race—Milei and Bullrich—are running in the anti-Peronist lane. And while both are critics of the incumbent government, each has their own policy niche. Milei has proposed dollarizing Argentina's economy while Bullrich is pitching a hard-on-crime strategy. Meanwhile, Massa, a Peronist, is proposing himself as a unity candidate and distancing himself from his own party's leadership. 
The novel arrangement of Argentina's candidates is perhaps a response to its not so novel economic conditions. Once again, Argentina finds itself struggling with annual inflation over 120 percent and the poverty rate stood at 40 percent halfway through this year. A September CB Consultora poll puts disapproval of the current government at 75 percent.
A candidate must receive 45 percent of the vote to win in the first round, or 40 percent with a 10-percent advantage over the runner-up. Otherwise, the top two candidates will face each other in a November 19 runoff. Voting is obligatory for all voters except those 16 to 18 years old. 
Who are the major three candidates running for president? And what is their approval, according to CB Consultora? AS/COA Online covers the top three contenders in order of polling, as well as the two candidates who round out the field.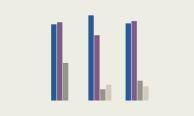 Poll Tracker: Argentina's 2023 Presidential Election
See how the competition between Sergio Massa and Javier Milei is shaping up ahead of the November 19 runoff election.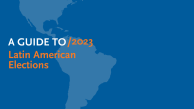 A Guide to 2023 Latin American Elections
AS/COA covers this year's votes in the Americas, from presidential elections to referendums.