Poll Tracker: Argentina's 2023 Presidential Election
Voters will pick from five candidates in the October 22 first-round vote. Who's leading? And what are the top issues? 
Argentina's PASO presidential primary, held August 13, had two major effects on the race to the Casa Rosada. One is that it winnowed the field, both eliminating any coalition that didn't receive at least 1.5 percent of the national votes and any that didn't receive a plurality within its coalition. The other is that it produced a surprise frontrunner: Javier Milei. The libertarian congressman of the Liberty Advances coalition received 30 percent of the vote—the most of any coalition or candidate. 
But to win, Milei will need to beat the two other candidates polling in double digits: conservative former Security Minister Patricia Bullrich of Together for Change and current Economy Minister Sergio Massa of the Peronist Union for the Homeland coalition. The field is rounded out by Myriam Bregman of Left and Workers' Front Unity and Juan Schiaretti of the We Do for Our Country. 
A candidate must receive 45 percent of the vote to win in the first round or 40 percent with a 10-percent advantage over the runner-up. Otherwise, the top two candidates will face each other in a November 19 runoff. Voting is obligatory for all voters except those 16 to 18 years old.
Which candidate is leading polling? Is a runoff likely? And what are the top issues for Argentina? AS/COA Online explores.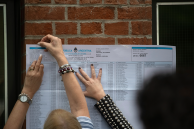 What Are Argentina's PASO Presidential Primaries and Who's Running?
On August 13, Argentine voters will narrow down the presidential field. Learn about the process and top contenders.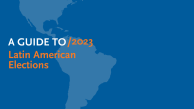 A Guide to 2023 Latin American Elections
AS/COA covers this year's votes in the Americas, from presidential elections to referendums.