Tracker: Presidential Approval in Latin America's Top Five Economies
See citizens' perception of their leaders and national progress in Brazil, Colombia, Chile, Mexico, and Argentina.
The current presidents of Latin America's five largest economies all represent a shift from what came before. Both Chile's Gabriel Boric and Colombia's Gustavo Petro won elections in their countries after their predecessors faced widespread protests over income inequality—among other issues. Brazil saw the political pendulum swing when Luiz Inácio Lula da Silva replaced rightist Jair Bolsonaro on January 1. Alberto Fernández helped the Peronists win back Argentina's Casa Rosada in 2019 after the center-right Mauricio Macri's government fell short of stemming the country's economic problems. And back in 2018, Andrés Manuel López Obrador, or AMLO, rode a wave of discontent with corruption to the top office in Mexico.
But in an era where Latin American anti-incumbents are taking the prize, can these leaders meet citizen demands?
AS/COA Online tracks approval ratings for presidents in the region's top five economies, as well as citizens' views on the direction of their countries and top issues.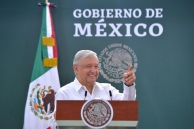 Approval Tracker: Mexico's President AMLO
Check support levels for Andrés Manuel López Obrador as he enters his final year in office.