Timeline: Latin America's Race for a COVID-19 Vaccine
AS/COA Online covers vaccine approvals and rollouts in the region.
Scientists around the world are scrambling for a solution to the pandemic through potential vaccine developments, and Latin America is a target for testing. There's little wonder why countries in the region would want to participate: at the end of May, the Pan-American Health Organization confirmed that Latin America and the Caribbean had become the global epicenter for COVID-19. As of the end of 2020, Latin America and the Caribbean had over 15 million confirmed cases, and just over 500,000 deaths.
Argentina, Brazil, and Mexico are big players in Latin America's vaccine race, but other countries are taking their places in the relay. There have also been multilateral efforts to promote cooperation, including the World Health Organization's COVAX Facility, an initiative working toward rapid and fair access to vaccines across the globe with a goal of delivering 2 billion doses by 2021's end.
Clinical testing for vaccines usually occurs in three phases. Phase 1 involves testing dosage safety on a small group of volunteers. Phase 2 extends trials to a wider group. Phase 3, prior to limited use and approval, involves large-scale testing to compare infection rates from those given placebo vaccines. Most vaccines being made available in the region require two doses, but some are of single dosage, such as Johnson & Johnson and CanSino. AS/COA Online lays out the developments toward a vaccine in the region.
Below, see a timeline of vaccine developments in the region. But first, we chart vaccine efficacy rates.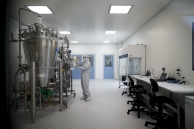 Cronología: La carrera de América Latina por una vacuna COVID-19
AS/COA Online cubre las autorizaciones y distribuciones de la vacuna en la región.
February 24 — Mexico begins administering the Sputnik V shot to citizens over 60 years old after receiving its first shipment of 200,000 doses of the Russian vaccine on February 22. The country expects 24 million doses of the Russian shot, although the timeline for upcoming shipments is unclear.
February 23 — Brazil approves full use—rather than just emergency use—of Pfizer-BioNTech's vaccine, despite not having a supply deal. The authorization by health regulator Anvisa is the first of its kind in the region, with emergency use a fast-tracked green light for a medication by regulators, given its urgency.
On this day, Colombia's regulator approves emergency use for AstraZeneca-Oxford's vaccine.
Also on this day, Nicaragua receives its first shipment of an undisclosed quantity of Sputnik V doses, which were donated by Russia. Nicaragua aims to inoculate 55 percent of its roughly 6.5 million people as a first step. On January 14, Nicaragua announced a plan to buy 7.4 million doses to reach this goal.
February 22 — Mexico begins vaccinating citizens with China's Sinovac shot, CoronaVac in the city of Ecatepec using 200,000 doses that arrived two days earlier.
February 21 — Argentina approves China's Sinopharm vaccine for emergency use and says it expects to receive 1 million doses. The country also underwent a vaccine scandal resulting in Health Minister Ginés González García resigning on February 19, after it became known he used connections to give fast access to vaccines to people not yet entitled to inoculation. Health Minister Carla Vizzotti assumed the role on February 20, and pledged better oversight of vaccine distribution.
February 17 — El Salvador begins administering the first AstraZeneca-Oxford doses of a 20,000-large shipment that arrived in the country on the same day.
Also on this day, Panama continues to immunize citizens after a second shipment of about 67,000 doses of Pfizer-BioNTech's vaccine arrived on the same day.
February 15 — Mexico begins vaccinating those over 60 years of age with its supply of 870,000 AstraZeneca-Oxford doses, which arrived in the country the day before.
February 10 — Mexico receives the active substance for 2 million doses of the one-shot CanSino vaccine. On the same day, Mexico approves emergency use for this Chinese vaccine along with Sinovac's CoronaVac, bringing the total number of vaccines authorized in Mexico to five. The development is important news in the country, where Pfizer production delays had resulted in vaccinations coming to a near standstill, although the country was slated to receive, over the course of February, doses from AstraZeneca, Pfizer, and NovaVax.
February 9 — Peru begins vaccinating citizens using the 300,000 Chinese Sinopharm doses that arrived in the country two days earlier.
Also on this day, Chile reaches over 1 million vaccinations just six days after starting a vaccination campaign, and as of February 9, the country vaccinated 5.58 per 100 people. That puts Chile on track to meet its goal of vaccinating 5 million people by end of March, and 15 million by July. Chile has contracts with AstraZeneca-Oxford, Johnson & Johnson, Pfizer-BioNTech, and Sinovac.
In addition, Argentina reaches an agreement with Chinese firm Sinopharm to purchase 1 million vaccine doses, pending regulatory approval. The government expects the first shipment to arrive at the end of the month. Also, Argentina approves emergency use of the Covishield vaccine produced at India's Serum Institute, becoming the third approved vaccine in the country. This shot is manufactured in collaboration with firm AstraZeneca and University of Oxford, and is manufactured using the similar technology.
February 8 — Chinese vaccine CanSino's late-stage trial results show a 65.7 percent efficacy rate for preventing symptomatic cases of COVID-19.
February 6 — Brazil receives the first batch of active ingredients for 2.8 million doses of the AstraZeneca-Oxford shot at the Fiocruz center. Fiocruz expects to produce 15 million vaccines with more shipments expected in February. The government had ordered supplies enough to make 100 million of these vaccines. On the same day, São Paulo's Butantan Institute begins production of 8.6 million doses of the Chinese Sinovac shot, which are expected to be ready for distribution by February 23. The active ingredients for this vaccine arrived on February 3.
Also on this day, Pfizer-BioNTech applies for full regulatory approval in Brazil.
February 4 — Peru reaches a deal to buy 20 million doses of Pfizer-BioNTech vaccines. Interim President Francisco Sagasti announces that over 500,000 doses will arrive by April, with the first half arriving in March.
February 2 — Mexico's Foreign Minister Marcelo Ebrard announces that Phase 3 joint trials with the United States for the Novavax vaccine will begin involving 2,000 Mexican participants in seven medical centers nationwide. Novavax's shot achieved 89.3 percent efficacy rate in the UK final-stage trials, but was less effective against the South African variant. Mexico also launches, with some technical difficulty, an online platform for people to register to get vaccinated, starting with older citizens.
Also on this day, The Lancet releases an article with study findings that the Sputnik V vaccine has a 91.6 percent efficacy rate in a study with 20,000 participants, putting to rest some transparency concerns. On the same day, Mexico approves emergency use of the Russian vaccine.
January 31 — Chile receives a second shipment of nearly 2 million Sinovac vaccines, completing a 10 million-dose deal with the Chinese producer and putting the country on track to vaccinate 5 million Chileans by the end of the first quarter of 2021.
January 28 — Russia sends Argentina 240,000 doses of the Sputnik V vaccine, and 20,000 of those doses were then sent to Bolivia. This first batch to Bolivia is part of the 2.6 million vaccine agreement signed with Russia on December 30.
January 27 — Chilean regulatory agency ISP approves emergency use of 6 million doses of the AstraZeneca-Oxford vaccine, the third regulatory approval in the country.
Also on this day, Mexico receives German CureVac vaccine doses for Phase 3 trials on 8,000 volunteers across the country. Phase 3 trials are also taking place in the country for CanSino and Johnson & Johnson vaccines.
In addition, Russia warns that its Sputnik V supplies to Latin America may be delayed as their producer struggles to meet high demand, and plans to increase production.
A Pan-American Health Organization official announces that the UN COVAX facility will begin sending some 164 million doses COVID-19 vaccines via donation to poorer countries, including Bolivia, Dominica, El Salvador, Granada, Guyana, Haiti, Honduras, and Nicaragua.
January 26 — Mexican President Andrés Manuel López Obrador announces that state governors may acquire vaccines on their own accounts, after the country recorded the highest daily record of new confirmed cases to date—over 22,000 in 24 hours. AMLO, who confirmed he'd tested positive for COVID-19 two days earlier, also announces that Mexico will buy 24 million doses of Russia's Sputnik V vaccine despite this vaccine not being approved by Mexican regulatory agencies yet.
January 23 — Brazil's Fiocruz institute begins to distribute 2 million doses of the AstraZeneca-Oxford vaccine that arrived from India the day before after a week's delay. Fiocruz agreed to produce up to 100 million AstraZeneca-Oxford vaccine doses in September.
January 22 — Brazilian regulators approve the use of Sinovac's locally manufactured CoronaVac vaccine, which allows for a distribution of 4.8 million more doses, on top of the 6 million doses made in China already in distribution.
The same day, the firm União Quimica begins local production of the Sputnik V vaccine—still without regulatory approval—with the goal to manufacture 8 million monthly doses for distribution.
January 21 — Panama begins vaccinating citizens with Pfizer-BioNTech doses, making it the second Central American country after Costa Rica to start vaccinating its citizens.
Also this day, Ecuador begins to immunize for health workers, the elderly, and their caretakers with the Pfizer vaccine.
January 20 — Mexico's Foreign Minister Ebrard announces that AstraZeneca-Oxford's active substance for the vaccine's domestic production has arrived from Argentina paving the way to produce 6 million doses that are estimated to be ready for use as early as late March.
Chile approves emergency use of Chinese firm Sinovac's vaccine CoronaVac, the second vaccine approved in the country.
January 19 — Cuba concludes first-stage trials of the Mambisa vaccine, which were approved on December 7. The island also has another nationally developed vaccine, Abdala, in Phase 1 trials. With these two candidates, Cuba has four domestic vaccines under development.
January 17 — Brazilian regulator Anvisa approves both the AstraZeneca-Oxford and Sinovac vaccines for use. Minutes after Anvisa's announcement, São Paulo state authorities begin vaccinating citizens. Health Minister Eduardo Pazuello announces that a national vaccination campaign would begin on January 20.
On the same day, Mexico's President Andrés Manuel López Obrador, or AMLO, reveals there will be a delay in Pfizer-BioNTech vaccine shipments. So far, the country received roughly half a million Pfizer doses. The delay stems from a January 15 Pfizer announcement that the company would be reducing shipments worldwide while it revamps its Belgian facilities to increase production.
January 15 — Paraguay becomes the fourth Latin American country to approve Russia's Sputnik V vaccine's use.
January 14 — Chile's government confirms that despite the Chinese Sinovac vaccine's low efficacy rate, it will administer 60 million doses over three years as planned.
January 13 — Venezuela approves emergency use of Russia's Sputnik V vaccine, the third Latin American country to do so.
On this same day, Bolivia signs a deal with India's Serum Institute for 5 million doses of the AstraZeneca-Oxford vaccine. The first 1 million doses are slated to arrive in April.
January 12 — Brazil's Butantan Institute says efficacy rates for Chinese firm Sinovac's CoronaVac vaccine—with which the São Paulo entity began clinical trials in July—is actually 50.4 percent when considering more data, and not 78 percent as they announced less than a week earlier. The efficacy rate fell nearly 28 points when factoring in data from all trial participants, including "very mild" cases and those with no medical assistance needed, while the 78 percent effectiveness pertained to mild to severe cases only, according to the Institute.
January 8 — Mexico's Foreign Ministry announces that health regulator Cofepris has approved Phase 3 clinical trials for Germany's CureVac vaccine.
January 6 — Peru's government purchases 52 million vaccine doses—38 million from Chinese firm Sinopharm and 14 million from AstraZeneca-Oxford. Interim President Sagasti announces that 1 million doses of the Chinese vaccine will arrive by end of January, while the British vaccine is slated to arrive in September. He also announces that Peru plans to vaccinate around 15 million Peruvians, about half of the population, by June.
On the same day, Bolivia approves emergency use of the Russian Sputnik V vaccine. On December 30, Russia committed to delivering 2.6 million doses to the South American country.
January 5 — Colombian health regulator Invima authorizes emergency use of the Pfizer-BioNTech vaccine, marking the first approval under the country's vaccination plan. Colombia is set to receive the first delivery of 1.7 million Pfizer vaccines in February, and Colombians over 60 years old, those with health risks, and health workers are first in line.
Also on this day, Brazil's Health and Foreign Ministries issued a statement announcing that its public health center Fiocruz is in advanced talks with India's Serum Institute in order to receive a shipment of AstraZeneca-Oxford vaccines produced from the Asian country. A day earlier, Fiocruz presented the regulator Anvisa with information about the affiliate producer in India and says it will evaluate that vaccine compared to the one produced in the UK before deciding on emergency approval.
On the same day, Ecuador announces that the first 50,000 doses of the Pfizer-BioNTech vaccine will arrive in the third week of January followed by 2 million doses in March, with additional purchases under negotiation. In December 2020, Ecuador's Health Minister Zevallos announced the country plans to inoculate some 9 million people between March and September in collaboration with private health entities, setting aside $200 million to purchase vaccines from seven companies.
January 4 — Mexico approves the use of the AstraZeneca-Oxford vaccine, the second one authorized for use since Pfizer-BioNTech's vaccine was approved in December. Foreign Minister Ebrard tweets that production in Mexico will start very soon, referring to the plan announced in August to produce up to 250 million doses for Latin America in collaboration with Argentina.
January 2 — Brazil's Anvisa announces it approved a request from leading entity Fiocruz to import 2 million doses of the not yet authorized AstraZeneca-Oxford vaccine. Fiocruz agreed in June 2020 to locally produce the British vaccine in a $127 million deal. The regulator says this import is to speed inoculation once vaccine use is approved. As of this date, Brazil has yet to approve any vaccine for use.
December 31 — Dominican Republic's health regulator approves use of the AstraZeneca-Oxford vaccine in the Caribbean nation.
December 30 — Argentina authorizes the use of the AstraZeneca-Oxford vaccine, hours after the UK gives it the green light. The South American country is the first in Latin America to do so.
On the same day, El Salvador approves importing, distributing, and using the AstraZeneca-Oxford vaccine. On November 24, President Nayib Bukele had announced an agreement with the British firm two purchase 2 million doses to arrive in the first three months of 2021.
December 29 — Argentina begins inoculating citizens with the Russian Sputnik V vaccine, making it the first Latin American country to do so. On December 24, the country received the first 300,000 doses, which are part of the estimated 60 million slated to arrive by July 2021. Argentina approved the vaccine's emergency use on December 23.
On the same day in Brazil, the government urges COVID-19 vaccine producers to speed up applications for use in the country as pressure grows for President Jair Bolsonaro to start vaccinations. Meanwhile, Russia requests regulatory approval from Anvisa to launch Phase 3 trials of the Sputnik V vaccine in Brazil.
December 24 — Mexico begins inoculating the first of the country's 1.4 million health workers with the Pfizer-BioNTech vaccine. On December 23, the country received an initial shipment of about 3,000 doses, a day after Foreign Minister Ebrard announced that 1.4 million more Pfizer vaccine doses would arrive in January, and a total of nearly 12 million would arrive by June.
On the same day, Chile receives the first 10,000 doses of the purchased 10 million Pfizer-BioNTech vaccines, and begins inoculating frontline health workers in Santiago. The country's health regulator approved the German vaccine for use on December 16.
Also on this day in Costa Rica begins inoculating elderly citizens and health workers with the Pfizer vaccine. It is the third country in the region and first in Central America to do so. This is the start of a program to vaccinate 1.5 million people in the country of 5 million.
December 22 — Argentina's health regulator authorizes the use of Pfizer-BioNTech's vaccine.
December 16 — Ecuador's health regulator approves use for Pfizer-BioNTech's vaccine.
December 15 — Panama approved emergency use for the Pfizer-BioNTech's vaccine.
December 12 — Brazil releases a national vaccination scheme, and plans to inoculate 51 million people—less than one quarter of its population—by June 2021. The four-stage plan, prioritizing health workers and the elderly, states that about 148 million Brazilians, or 70 percent of the country's 212 million people, must be immunized to stop contagion. The plan's start date depends on Anvisa's approval of each vaccine. Earlier in the same week, Bolsonaro announces that vaccines will be free to all Brazilians, but not mandatory.
December 11 — Mexico's medical safety commission approves the use of Pfizer-BioNTech's vaccine, the fourth country to do so after Britain, Canada, and Bahrain.
December 10 — Argentina's Fernández gives details of the national vaccination plan, aiming to distribute 60 million doses across the country in the first six months of 2021. Among groups who will receive immunization first are the elderly, health care workers, and military personnel. The president also announces the initial purchase of 600,000 doses of the Russian Sputnik V vaccine to arrive before the end of the year, and the goal of vaccinating some 300,000 Argentines by the end of 2020.
December 8 — Brazil signs a letter of intent with U.S. firm Pfizer and German lab BioNTech to secure the delivery of over 70 million vaccine doses in 2021.
On the same day, Mexico announces a five-stage vaccination plan to begin in December. Inoculation starts with health workers, followed by Mexicans 60 years and older by end of March, then those 40 years and older by end of May. Mexicans younger than 40 will begin to get the vaccine in June, and immunization is expected to last through March 2022.
December 3 — São Paulo's Butantan Institute receives 1 million of the agreed 46 million doses of China's Sinovac vaccine, which is in late-stage testing across Brazil. The Institute says it expects the Chinese entity to release efficacy results by December 15.
On the same day, Brazil's Senate approves Bolsonaro's decree designating $370 million to purchase doses of the AstraZeneca-Oxford vaccine. Health Minister Pazuello said a day earlier that 100 million doses of the AstraZeneca vaccine would arrive in the first half of 2021.
Also on December 3, Ecuador's Health Minister Juan Carlos Zevallos announces that the country plans to immunize around 30,000 people by January 2021. When answering a question on which vaccines would be administered first, Zevallos responds either the AstraZeneca or Pfizer vaccine.
December 1 — Chile's president gives details for a national vaccine plan to immunize around 15.2 Chileans, or 80 percent of the population, prioritizing health workers, transport workers, and military personnel. The rollout is slated to begin in the first quarter of 2021, yet no set timeline has been established. Vaccination will be free and voluntary for most, while for high-risk groups and school children it will be mandatory.
November 15 — Venezuela's Nicolás Maduro announces he will purchase 10 million doses of Russia's Sputnik V vaccine for administration in the first quarter of 2021. He also says that additional doses of the Russian vaccine will be produced in Venezuelan laboratories.
November 7 — Argentina makes a deal with firm AstraZeneca to receive 22 million vaccine doses, which it anticipates will come in the first six months of 2021.
November 4 — Chile's Piñera announces that national regulator ISP approved Phase 3 trials for the AstraZeneca-Oxford vaccine.
November 2 — Cuba begins Phase 1 clinical trials for its second vaccine, Soberana 02, after the island's Center for State Control of Medicines, Equipment, and Medical Devices approved the trials on October 27.
Also on November 2, Argentina's president announces an agreement with Russia to purchase 10 to 25 million doses of the Sputnik V vaccine, which will be delivered at some point between December and the first half of January 2021.
October 26 — Ecuador announces it will spend roughly $150 million to acquire 14 million doses to immunize 70 percent of the population. The country is in talks with several laboratories for this purchase, including AstraZeneca and Pfizer, as well as the COVAX Facility.
October 23 — Johnson & Johnson announces it will resume Phase 3 clinical trials in the United States that were paused on October 12.
The same day, Brazil regulator Anvisa authorizes the Butantan Institute to import 6 million doses of the Chinese Sinovac vaccine for Phase 3 trials, and private pharmaceutical firm União Quimica announces a deal with Russia to produce the Sputnik V vaccine, pending regulatory approval.
October 21 — Anvisa announces the death of a volunteer in Brazil's Oxford-AstraZeneca clinical trial. According to media reports, the volunteer was in a control group and did not receive the vaccine. After a review of the case, Oxford University continues the trial without pause.
October 13 — The Mexican government announces the signing of additional agreements to acquire up to 198 million vaccine doses, including from the WHO's COVAX Facility and the international laboratories of AstraZeneca, Pfizer, and CanSino Biologics. Mexico is negotiating to test Phase 3 vaccines from the following laboratories: CanSino (China), Curevac (Germany), Janssen (United States), Novavax (United States), Sanofi-Pasteur (France), Sputnik V (Russia), ReiThera, (Italy). Mexico has so far paid $281 million of the $1.6 billion total value of the vaccines.
October 12 — U.S. firm Johnson & Johnson pauses all vaccine trials for safety reviews after a participant developed an unexplained illness mid-trial, just as Colombia administers the vaccine to 17 volunteers in the Santander department.
October 11 — Peru signs an agreement with Pfizer to receive a first batch of 9.9 million vaccine doses, with further plans to secure a total 1.75 million doses through the first quarter of 2021. The two-dose vaccine would immunize about half a million people.
September 30 — São Paulo Governor João Doria signs a $90 million contract to buy 46 million doses of the Chinese Sinovac vaccine. Its distribution is slated to begin on December 15.
September 24 — Brazil announces it will set aside $450 million to join the WHO's COVAX Facility, and will buy enough doses to inoculate 10 percent of the population by the end of 2021.
September 22 ;— Chilean President Sebastián Piñera announces an agreement for Chile to receive 10 million doses of the Pfizer-BioNTech vaccine. He also announces an agreement with the COVAX Facility, which will allow for 8 million doses of a vaccine "of choice, with WHO approval," he says. The president reiterates Chile's plan to acquire 14.4 million doses of the AstraZeneca-Oxford vaccine. (The estimated population of Chile in 2020 is just over 19 million, according to the UN.)
September 15 — Brazil's Anvisa gives AstraZeneca approval to test the Oxford vaccine on an additional 5,000 Brazilians in Phase 3 trials, for a total of 10,000 volunteers.
September 13 — AstraZeneca resumes global testing for the vaccine developed with Oxford University after a pause in trials following safety reviews.
September 10 — AstraZeneca's CEO announces that the Oxford vaccine may well be likely be ready for distribution at the end of the year, despite clinical trials being temporarily held up for safety reviews.
Also, the Brazilian state of Bahia agrees to conduct Phase 3 trials of the Russian Sputnik-V vaccine, pending regulatory approval. The state plans to purchase 50 million doses.
September 9 — The Russian Direct Investment Fund announces it will supply Mexico's Landsteiner Scientific laboratory with 32 million doses of the Sputnik V vaccine in November, pending regulatory approval.
Brazilian laboratory DASA announces it agreed to conduct Phase 2 and 3 trials of the U.S. COVAXX vaccine, pending regulatory approval, once the first phase of trials concludes in Asia.
Also on this day, Peru begins clinical trials for the Sinopharm vaccine.
September 8 — The heads of nine pharmaceutical firms issue a joint statement vowing not to push for regulatory approval of their vaccine candidates before assuring safety and effectiveness, and to "ensure public confidence in the rigorous scientific and regulatory process."
On the same day, AstraZeneca announces it's pausing its Phase 3 global trials for a safety assessment after a volunteer in the United Kingdom showed a serious reaction to the vaccine.
August 28 — Per Reuters, Peru looks to begin separate testing of Chinese and U.S. vaccines. In the case of the Chinese tests, clinical tests will be led by Sinopharm, in collaboration with Lima's Cayetano Heredia University and National University of San Marcos, with 6,000 volunteers. Johnson & Johnson's will involve 4,000.
August 26 — Colombia's National Food and Drug Surveillance Institute approves clinical trials for Johnson & Johnson's vaccine at various study centers across the country.
August 25 — The Mexican government announces that 2,000 Mexicans have volunteered to participate in Phase 3 trials of the Russian vaccine Sputnik V.
August 24 — Cuban laboratory Soberana's vaccine enters Phase 1 trials with a group of 20 volunteers, and estimates it will reach Phase 2 in late October.
As of the same date, of the 80 countries that publicly support the COVAX Facility, six are Latin American: Argentina, Brazil, Chile, Colombia, Dominican Republic, and Mexico.
August 18 — Brazil's Anvisa approves human trials for over 6,000 volunteers for the Johnson & Johnson vaccine, the fourth candidate to enter Phase 3 trials in the country, joining the Oxford-AstraZeneca, Sinovac Biotech, and Pfizer-BioNTech vaccines.
August 13 — López Obrador says the Oxford-AstraZeneca University distribution of the vaccine in Mexico will be "universal and free." Should regulatory agencies find the vaccine effective, the laboratory could produce up to 35 million vaccine doses monthly. On August 16, López Obrador suggests the vaccine could be administered as early as the first quarter of 2021.
August 12 — Argentine President Alberto Fernández announces that the national laboratory mAbxience signed an agreement with AstraZeneca and Oxford University to produce a COVID-19 vaccine, in Phase 3 of testing. The president said that between 150 and 250 million doses would be available for distribution across Latin America within the first six months of 2021. Brazil is not included in this projection, as it has its own agreement for production and distribution with the British entities. Argentina also agreed with Mexico that, while the first stage of production—making the active substance—will take place in Argentina, the final steps will take place in Mexico's Biomont laboratory.
The same day, Mexican Foreign Minister Ebrard says Mexican billionaire Carlos Slim will finance production of the Oxford-AstraZeneca vaccine in partnership with Argentina to be distributed across Latin America.
In Brazil, the Paraná state government announces it's signed a document of mutual understanding with Russia, and a local technology institute, Tecpar, which said it expects to produce a Russian vaccine by the latter half of 2021. On July 29, Paraná made an agreement with Chinese firm Sinopharm to launch a vaccine trial, pending regulatory approval.
August 11 — The Mexican Foreign Ministry announces it will conduct Phase 3 clinical trials developed by U.S. firm Johnson & Johnson's pharmaceutical branch, Janssen, as well as two Chinese companies, CanSino Biologics and Walvax Biotechnology Co Ltd.
August 7 — Brazilian billionaire Jorge Lemann's foundation, alongside other private-sector investments, announce they will pay $18 million for the construction of a factory to produce the Oxford-AstraZeneca COVID-19 vaccine.
August 2 — The Chilean Science and Health Ministries announce the start of Phase 3 clinical trials for the Chinese Sinovac vaccine trial, in collaboration with country's Catholic University, which involves 3,000 volunteers over the age of 18. The university's immunology center signed an agreement of cooperation with the Chinese pharmaceutical firm on July 16.
July 22 — After a meeting between the Chinese Foreign Ministry and a number of Latin American and Caribbean counterparts—Argentina, Barbados, Chile, Colombia, Costa Rica, Cuba, Dominican Republic, Ecuador, Mexico, Panama, and Peru—the Mexican government announces that Chinese Foreign Minister Wang Yi offered a $1 billion loan to assist Latin America and the Caribbean's access a Chinese vaccine.
July 21 — Brazil's government approves the country's third clinical trial for August, U.S. pharmaceutical firm Pfizer and German laboratory BioNTech's joint study.
July 3 — The Butantan Institute announces it's reached Phase 3 for the Sinovac Biotech vaccine with 9,000 volunteers across the country.
June 27 — Brazil's Health Ministry signs an agreement with AstraZeneca Brazil for local production of the Oxford vaccine, a $127 million deal to produce it with leading public health entity Fundação Oswaldo Cruz, or Fiocruz, with the goal of producing 30 million doses by January 2021. One day earlier, President Jair Bolsonaro announces he will set aside roughly $356 million to buy the first 100 million doses of this vaccine and support domestic production.
June 23 — A group of 12 Argentine scientists, supported by the National Scientific and Technical Research Council and the National University of San Martín, begin preclinical testing for a potential home-grown vaccine.
June 20 — Anvisa approves the third and final stage of testing for the Oxford-AstraZeneca vaccine, involving 5,000 volunteers in the cities of Rio de Janeiro, Salvador, and São Paulo.
June 11 — The governor of the Brazilian state of São Paulo announces that the government's Butantan Institute, a center for scientific study, will partner with Sinovac Biotech to develop the Chinese COVID-19 vaccine.
June 3 — Brazilian health regulator Anvisa announces it's approved human clinical trials to begin for an Oxford University vaccine in São Paulo, involving roughly 2,000 volunteers.
May 29 — The WHO, along with the Costa Rican government, launches the COVID-19 Technology Access Pool, an initiative aiming to make vaccines, tests, treatments, and other health technologies to respond to the virus widely accessible. The program is the brainchild of President Carlos Alvarado, who on March 24 requested that the global health entity create a repository of information for all member countries.
May 28 — Mexico's National Autonomous University, better known as UNAM, announced the first stage of animal testing for a nationally developed vaccine, with a target of moving to human clinical trials in 2021.
April 20 — The UN General Assembly adopts Mexico's proposed resolution 74/274 calling for international cooperation to ensure global access to medicines, vaccines, and medical equipment to confront COVID-19. This comes after President López Obrador, proposed at the March 26 G20 Summit that the international body intervene to ensure equal access to medicine, vaccines, and equipment for all countries.
This article was originally published on September 9, 2020 and has since been updated.