State of Mexico's Election for Governor: Why It Matters
One party has run Mexico's most populous state for a century. That could end June 4. AS/COA Online covers the vote and its impact on the presidential race.
This article was initially published on May 30, 2023, and has since been updated to include news of an alleged embezzlement scandal involving the State of Mexico's current government.
"The PRI even lost in … Atlacomulco," announced the front page of Mexican daily Reforma after the July 2018 elections that saw Andrés Manuel López Obrador, or AMLO, and his Morena party win the presidency and decisive victories across the country. Atlacomulco, a town in the State of Mexico, has been considered a cradle of power for the Institutional Revolutionary Party (PRI) and is the namesake of a group of party elites, known as the Grupo Atlacomulco, which included ex-President Enrique Peña Nieto and several governors. Since 2018 it has been controlled by Morena.
But the power of the Grupo Altacomulco was not fully dimmed. One member of the group, current state Governor Alfredo del Mazo, defeated Delfina Gómez, the candidate from AMLO's party, in a tight 2017 gubernatorial race, a year before Morena's big national triumph. Gómez, though, still claims fraud. 
Now the PRI's 94-year reign in State Mexico—the most populous of Mexico's 32 states—may come to an end. On June 4, Gómez will try again to capture the governorship, and in a new political context: Morena has gone from running a handful of states to two-thirds of Mexico's governorships. Gómez, who served as AMLO's education minister and a senator in the interim, holds a double-digit poll lead against Alejandra del Moral. A PRI member, del Moral is a candidate of the Va Por México alliance made up of her own party, the National Action Party (PAN), the Party of the Democratic Revolution (PRD), and Nueva Alianza. And the stakes are high; Mexican magazine Proceso went so far as to describe del Moral as "the protagonist in the survival or extinction of the PRI." 
The border state of Coahuila is also electing a governor, but there, polls place the Va Por México candidate ahead. 
Still, State of Mexico—Estado de México in Spanish, or Edomex—is the gubernatorial crown jewel, and would give the winning party bragging rights a year out from 2024 general elections.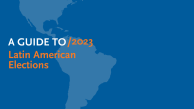 A Guide to 2023 Latin American Elections
AS/COA covers this year's votes in the Americas, from presidential elections to referendums.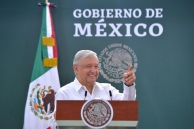 Approval Tracker: Mexico's President AMLO
Check support levels for Andrés Manuel López Obrador as he enters his final year in office.