Q&A: El Tiempo's Ricardo Ávila Pinto on Colombia's Presidential Race
The award-winning journalist talks candidates, previews the runoff, and explains why Colombian voters want a change from the status quo.
Colombians vote May 29 in the first round of the country's presidential election. What looked like a two-horse race between frontrunner Gustavo Petro and Federico "Fico" Gutiérrez has now been pried open by the rise of independent anti-establishment candidate Rodolfo Hernández.  
The uncertainty surrounding the outcome coincides with high levels of voter discontent. Roughly 80 percent of Colombians are dissatisfied with their country's democracy, and recent years' protests show concerns about inequality. "Even taking into account that Colombia's economy is growing at a very fast pace, there is this feeling that there was a party and a large percentage of the population was not invited," explains El Tiempo Senior Analyst Ricardo Ávila Pinto. The economist and award-winning journalist also details what it would mean for the country's stability if frontrunner Gustavo Petro loses and doesn't accept the results.  
AS/COA Online sat down with Ávila Pinto to go over the current state of play.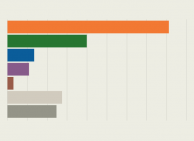 Poll Tracker: Colombia's 2022 Presidential Election
See how the competition between presidential hopefuls is shaping up ahead of the May 29 first-round vote.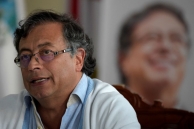 The Evolution of Colombia's Gustavo Petro
The former Bogotá mayor is making his third run at the presidency and is leading in polls. Has he changed, or has the country?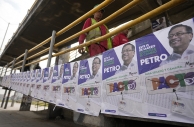 Explainer: Who's Who in Colombia's 2022 Presidential Race
Will the country change political course? Ahead of the May 29 first round, we look at the top presidential candidates.