The Pulse of Latin American Press Freedom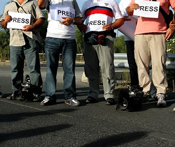 Christian Poveda headed to a neighborhood on the outskirts of San Salvador on September 2 to interview female gang members for a French magazine. Upon his return, his car was intercepted and diverted to a spot where he sustained four gunshot wounds, including one to the head. Just a day before his death, the French-Spanish documentary filmmaker warned that Central American gang violence teetered on the brink of a dangerous surge. Police arrested six suspects—including a police officer—for the assassination of Poveda, who spent more than a year following the Mara 18 gang to chronicle the lives of its members for his new film "La Vida Loca."
While some journalists reporting in Latin America face dire threats to personal security, others face official intimidation in what some warn could roll back hard-won press freedoms. Some press rights advocates shine a light on steps taken in Venezuela. Last month, Caracas closed 34 outlets for not complying with regulations. Television station Globovision, a critic of President Hugo Chávez, appears on the verge of losing its broadcast license while 29 other stations may be pulled from the airwaves, reports The Guardian's Roy Greenslade.
But other governments also take actions that ring alarms for press freedom organizations. This week, President Daniel Ortega called the media "an echo box for the enemies of the people's project." As Americas Quarterly's Danielle Renwick writes, accusations of censorship and media blackouts erupted in Honduras since the June 28 overthrow of President Manuel Zelaya. In Colombia, after Cambio magazine linked a judge to an Italian criminal organization, the same judge issued an arrest warrant for the magazine's publisher. The same judge has brought legal action against journalists from other prominent Colombian publications such as Semana and El Tiempo. And, in Brazil, after months in which media outlets covered a Senate scandal involving ex-President José Sarney, one of his relatives gained a court injunction preventing O Estado de São Paulo from publishing information about the former head of state.
In the past few days, eyes have turned to Buenos Aires. President Cristina Fernández de Kirchner and her husband have accused one of the country's biggest media groups Clarín of bias. The government plans to push through media reforms that could lead to the breakup of the conglomerate. When some 200 tax agents raided Clarín's Buenos Aires offices on September 10, officials described the inspections as routine. But Clarín cried foul and Vice President julio Cobos described the action as "intimidation." The head of Argentina's tax agency Ricardo Echegaray denied giving the orders and said two officials had already been dismissed for carrying out the operation, which took place on the same day that Clarín's daily of the same name published a story saying the government had granted a $2.6 million subsidy to an agricultural company without the requisite permission.
Still, despite such controversial incidents, there are bright spots in the Americas. In a recent special report, the Committee to Protect Journalists covers the "vibrant, independent blogging culture" materializing in Cuba, where it estimates some 25 journalistic blogs are now updated on a regular basis. In Mexico last month, journalists and top officials—including the former President of Bolivia Carlos Mesa—signed a declaration recognizing free speech and information access as a "social value" and calling for adoption of inter-American legal standards for press freedom. Moreover, countries have recently passed laws establishing greater freedom of information. A Chilean transparency law approved in April offers the general public access to information about government bodies and police forces. And, shortly after, Brazil repealed a 1967 law that allowed courts to sentence journalists to prison sentences for what they wrote.
Still, in some cases, journalists find themselves taking matters to defend themselves into their own hands. In Mexico, one of the most dangerous countries in the world for reporters, journalists have taken part in survival training sessions made up of mock kidnappings and tear-gas-dodging exercises.
Learn more: