Poll Tracker: Chile's 2021 Presidential Race
See how the competition between presidential hopefuls is taking shape ahead of the November 21 elections.
Chileans will cast ballots for their next president on November 21, and the candidates are off to the races. On July 18, voters chose which candidates from the two major coalitions that held primaries would advance to the general elections, and a handful of candidates from other parties are also in the running, and those two primary winners are leading polls. Independent candidate Sebastián Sichel will represent the governing center-right Let's Go Chile coalition, while on the left, Gabriel Boric of the Broad Front is the candidate for the Approve Dignity coalition. Five other official candidates will join Boric and Sichel on the ballot, most notably the Republican Party's José Antonio Kast, Franco Parisi of the Party of the People, and Christian Democrat Yasna Provoste, each of whom has garnered over 5 percent in at least two polls in August. President Sebastián Piñera can't run due to consecutive term limits.
A runoff takes place on December 19 if no candidate receives a first-round majority vote, and a new president takes office for a four-year term on March 11, 2022. Chileans will also vote for 27 of 55 senators and all 155 seats in the Chamber of Deputies in November. Voting has been voluntary in Chile since 2012, though Congress is debating a bill that would make it mandatory again before November's vote. In the 2017 general elections, turnout was 47 percent.
AS/COA Online takes a look at the polls.
This tracker was initially published June 10, 2021, and is updated as more polls become available.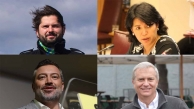 Explainer: Who's Who in Chile's 2021 Presidential Race
Ahead of the November 21 first round, AS/COA Online profiles the backgrounds and platforms of Gabriel Boric and Yasna Provoste on the left, and Sebastián Sichel and José Antonio Kast on the right.