Explainer: Who's Who in Chile's 2021 Presidential Race
Ahead of the November 21 first round, AS/COA Online profiles the backgrounds and platforms of Gabriel Boric and Yasna Provoste on the left, and Sebastián Sichel and José Antonio Kast on the right.
Chilean voters voiced two notable preferences in July's primaries: youth and political moderatism. In July 18 primaries, Gabriel Boric and Sebastián Sichel beat out competitors who were older and farther to the left and right, respectively. When the March 2022 inauguration rolls around, polling frontrunner Boric would become Chile's youngest president ever at 36 years old. Sichel, at 44 years, would be the youngest in 170 years. Presidents in Chile serve four-year terms.
Chileans vote in general elections on November 21. If no candidate receives a majority, the top two will face each other in a December 19 runoff. There are seven official candidates in the 2021 presidential race. We profile the top four, each of whom has garnered 10 percent or more in at least two major polls since August.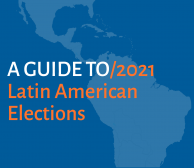 A Guide to 2021 Latin American Elections
In 2021, ten countries in Latin America hold elections—five of them presidential contests—while reeling from the pandemic's devastating impact.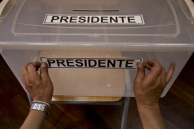 Poll Tracker: Chile's 2021 Presidential Race
See how the competition between presidential hopefuls is taking shape ahead of the November 21 elections.
Chile: Toward a New Constitution
The constitutional convention opens a door to a new political arena in a presidential election year, said experts in an AS/COA panel.