Libertarian Javier Milei Wins Argentina's Presidency in Runoff
In a rebuke to the status quo, Milei takes office in December with plans to downsize the state. We look at runoff results and what he'll face in Congress.
On November 19, libertarian Javier Milei triumphed in Argentina's presidential runoff, defying poll expectations to win by more than 11 points. "Today begins Argentina's reconstruction, today begins the end of decadence," Milei said in his victory speech. "The impoverishing model of the omnipresent state is coming to an end." Milei takes office December 10.
His victory was broad and deep, given that he won in 20 of Argentina's 23 provinces, as well as in the capital of Buenos Aires. Economy Minister Sergio Massa conceded defeat before official results were announced. Massa himself defied expectations by winning the first round, despite his role in a government that has overseen inflation upwards of 140 percent.
The runoff result is a rebuke to the leftist Peronist faction, which has held the Argentine presidency for most of the twenty-first century. Milei has promised dramatic changes that range from eliminating government ministries to dollarizing the economy. But even with a landslide win giving him a strong mandate from the public, the right-wing president-elect is likely to face obstacles in Congress, where his coalition is the third-biggest in both chambers of Congress. Massa's coalition, meanwhile, holds the most seats in each chamber, though no majority in either.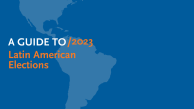 A Guide to 2023 Latin American Elections
AS/COA covers this year's votes in the Americas, from presidential elections to referendums.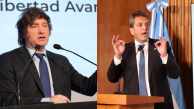 Argentina's 2023 Runoff: Comparing Massa and Milei
Learn about how the candidates differ when it comes to economic policy, endorsements, and coalitions.