Argentina's 2023 Runoff: Comparing Massa and Milei
Learn about how the candidates differ when it comes to economic policy, endorsements, and coalitions.
This tracker was initially published November 2, and has since been updated.
Argentina's presidential runoff takes place on November 19 and it's fair to say it's a polarized competition. Sergio Massa, current economy minister, won the October 22 first round, defending his approach to stabilizing Argentina's inflation-battered economy and pitching himself as a unity candidate. He'll face off against second-place finisher Javier Milei, a libertarian firebrand whose topline position is to dollarize Argentina's economy. 
How do to the candidates compare? AS/COA looks at their backgrounds, coalitions, and policies on economics, security, and social issues.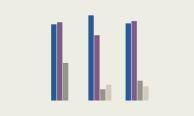 Poll Tracker: Argentina's 2023 Presidential Election
See how the competition between Sergio Massa and Javier Milei is shaping up ahead of the November 19 runoff election.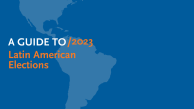 A Guide to 2023 Latin American Elections
AS/COA covers this year's votes in the Americas, from presidential elections to referendums.