LatAm in Focus: The Story of Unlikely Art Genius Bispo do Rosario
The Afro-Brazilian master never aspired to show his work, yet became a huge influence on Latin American art. Catch his work at Americas Society by May 20.
Arthur Bispo do Rosario never considered himself an artist. Nor did he aspire to have his work shown in a museum. And yet, Bispo is considered one of the greatest influencers of Latin American art in the twentieth century. An Afro-Brazilian artist from the northern state of Sergipe, Bispo—as he is often called—spent the majority of his life in a psychiatric hospital. He believed that the 1,000 pieces he produced were a mandate of God that fulfilled a mission to recreate the universe.
"Bispo do Rosario's story is that he presented himself at a young age of 29 years old to a church, claiming that he thought he was the new messiah. That is when he is taken by the police into the mental health institution, where he lived on and off for the rest of his life. He felt that [voices] were telling him to recreate all the existing materials on Earth," says Americas Society's Director and Chief Curator of Art Aimé Iglesias Lukin, one of the four curators of the exhibition Bispo do Rosario: All Existing Materials on Earth. 
In this episode, AS/COA Online's Luisa Leme speaks with Lukin, Ricardo Resende, Javier Téllez, and Tie Jojima—the four curators of the exhibition, which is the first solo show of Bispo do Rosario's work in the United States.
"I describe Bispo's oeuvre as one single work, made of a thousand pieces. We recently finished cataloging it," says Resende, who is also the chief curator of the Bispo do Rosario Museum in Rio de Janeiro. He explains Bispo's cloak—his most famous work—embroidered with drawings of boats, vehicles, animals, and words. "The cloak is sort of a catalog raisonné of his oeuvre, a comprehensive guide of his body of work."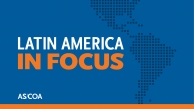 Latin America in Focus Podcast
Subscribe to Latin America in Focus, AS/COA's podcast focusing on the latest trends in politics, economics, and culture throughout the Americas.