The New York Times Writes that AS Exhibition "Provides Immersion in Bispo's Greatness"
Bispo do Rosario: All Existing Materials on Earth, which closes May 20, "adds another name to the 'outsider' canon" writes Roberta Smith.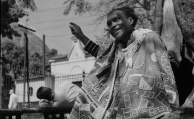 LatAm in Focus: The Story of Unlikely Art Genius Bispo do Rosario
The Afro-Brazilian master never aspired to show his work, yet became a huge influence on Latin American art. Catch his work at Americas Society by May 20.