Poll Tracker: Brazil's 2022 Presidential Election
See how competition between presidential hopefuls is shaping up ahead of the October 2 first-round vote.
Brazil's 2022 presidential election will see familiar faces on the ballot. Not only is current President Jair Bolsonaro in the race, but former President Luiz Inácio Lula da Silva (2003–2010) is also running after being cleared by a judge of corruption charges last year.
They are joined by pre-candidates that include former Governor and Minister Ciro Gomes and Senator Simone Tebet. Observers speculate that former Rio Grande do Sul Governor Eduardo Leite may mount a presidential bid, despite losing his party's primary to Doria.   
Former Minister of Justice Sergio Moro—the judge who put Lula in jail—was polling in third place for most of 2022 but, he ended his campaign on March 31. São Paulo Governor João Doria also dropped out on May 23. Now, Tebet is trying to draw the backing of centrists, such as Doria's party.
The first round of the election takes place October 2, alongside votes for 27 out of 81 senators, all 513 members of the Chamber of Deputies, and all 27 governors and state legislatures. If no presidential or gubernatorial candidate reaches 50 percent, runoffs will take place on October 30. The new president will be sworn in January 1, 2023. 
Voting in Brazil is compulsory and turnout was close to 80 percent in the 2018 first-round vote.
AS/COA Online tracks surveys by top pollsters ahead of the vote.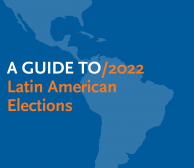 Guide to 2022 Latin American Elections
AS/COA covers this year's votes in the Americas, from presidential elections to referendums.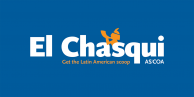 El Chasqui Newsletter: Get the Latin American Scoop
Get our weekly Friday newsletter in your inbox for updates on Latin American politics, economics, and culture.