Explainer: Guatemala's 2023 Presidential Elections
On June 25, voters will pick from a wide field of candidates to replace President Alejandro Giammattei. But some top contenders have been disqualified.
It's been a rough time for Guatemalan democracy. News outlet elPeriódico, known for uncovering high-level corruption for more than a quarter-century, shuttered operations in May with its publisher trapped in prison for what are widely seen as trumped-up charges. In recent years, authorities have threatened or forced into exile dozens of prosecutors and judges, effectively undoing years of anti-corruption progress. Now, several of the country's top presidential candidates are pitching hardline security policies in the style of neighboring El Salvador, where populist President Nayib Bukele's protracted state of emergency has sparked to thousands of human rights complaints. In its latest annual Democracy Index, the Economist Intelligence Unit categorizes Guatemala as a hybrid regime—one step up from an authoritarian state. 
Faced with this scenario, Guatemala's 9.4 million voters will pick a new president on June 25 at a time when they are increasingly pessimistic about their country's future and disapprove of nearly all its institutions—including, notably, its electoral tribunal. Voters will also have to decipher crowded ballots with 22 presidential candidates and at least 30 political parties competing for all 160 deputy seats, as well as for 340 mayoral posts and councils. In the case of Congress, Guatemalans will elect parties, not direct candidates, for national-level seats and departmental seats.
Ahead of the first-round vote, which leaders will guatemaltecos choose to try to turn the outlook around? AS/COA Online covers the issues, the candidates, and the controversy over disqualified contenders.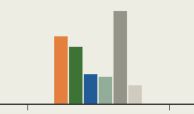 Poll Tracker: Guatemala's 2023 Presidential Election
Voters will have to pick from nearly two dozen candidates in the June 25 first-round vote. AS/COA Online covers polling and top issues.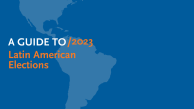 A Guide to 2023 Latin American Elections
AS/COA covers this year's votes in the Americas, from presidential elections to referendums.