Poll Tracker: Guatemala's 2023 Presidential Election
Voters will have to pick from nearly two dozen candidates in the June 25 first-round vote. AS/COA Online covers polling and top issues.
This tracker was initially published May 11, 2023 and has since been updated.
When voters in Guatemala head to the polls on June 25, they will be faced with almost two dozen options to replace President Alejandro Giammattei. This large field does not even include the three aspirants whose candidacies were rejected by the Supreme Court early this year. Moreover, polls reveal a divided electorate; there is no clear frontrunner but there are notable shifts in month-on-month polling. 
Still, polls reveal three candidates at the top of the pack: Former diplomat and Congressman Edmond Mulet of Cabal; ex-legislator Zury Ríos of Valor, the daughter of General Efraín Ríos Montt who was convicted of genocide; and two-time presidential runner-up and former First Lady Sandra Torres of the National Unity of Hope. The front runner in April polling, Carlos Pineda of the Citizens Prosperity party, was suspended from the race, along with roughly 200 candidates from his party competing for other roles, in a May 19, 2023 electoral court decision.
A candidate must receive more the 50 percent of the vote in the first round to win. Otherwise a runoff will take place on August 20. Every Guatemalan presidential election since 1996 has gone to a contested runoff. The 2019 runoff was the only election in that set where the first-place finisher of the first round did not go on to win the second. 
In addition to the presidential vote, Guatemalans will vote for all 160 deputies in Congress, 20 members of the Central American Parliament, and 340 mayors. Turnout in the past 11 elections averaged 57 percent and hit 62 percent in the 2019 first-round presidential vote. 
Who is leading the presidential race? What are voters' top issues? How do Guatemalans feel about the state of their country? AS/COA Online looks at surveys by top pollsters to assess.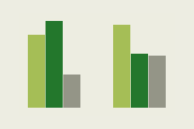 Poll Tracker: Guatemala's 2023 Presidential Runoff
Voters will decide between Bernardo Arévalo and Sandra Torres in the August 20 second-round election.