Explainer: Covid Variants in Latin America
Two variants—Gamma and Lambda—already have a strong presence in the region. Delta could soon follow.
This article was first published on July 1, 2021 and has since been updated.
No region in the world has been hit harder by the pandemic than Latin America and the Caribbean, where COVID-19 has taken a terrible toll: 1.3 million lives. More than a year after the virus' arrival, a number of countries are experiencing record-breaking contagion levels, with the rate of new daily cases per capita over five times higher than that of Europe, the region with the next highest rate. And, while many Latin American countries lag when it comes to vaccination rollouts, even those outperforming international rates are facing outbreaks and lockdowns.
What's driving the contagion? The spread of Covid variants is a major factor. More than 4,000 variants of the disease have been identified worldwide, each of which is a mutation from the original L strain found in Wuhan, China. Most mutations do not change the disease in an appreciable way, but a handful of variants have proliferated widely. The World Health Organization (WHO) designates four strains as "variants of concern," which means researchers say they fulfill one of the following traits: increased transmissibility, increased virulence, or ability to evade public health measures. The WHO also identifies "variants of interest," which signals that there have been clusters of a strain or that it has appeared in multiple countries.
AS/COA Online reviews the strains most relevant to Latin America at the moment and how effectively the vaccines used in the region fare against the variants.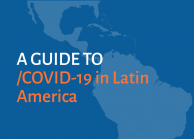 A Guide to COVID-19 in Latin America
Get resources on government responses, vaccine rollouts, and health impacts in the region.
Timeline: Tracking Latin America's Road to Vaccination
AS/COA Online covers major developments and Covid-19 vaccine rollouts as countries strive to return to normalcy.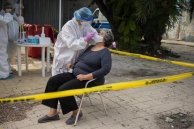 Covid Check-in: The Pandemic Takes Its Toll in Uruguay
Despite a strong vaccination campaign and early mitigation success, Uruguay is facing a fierce surge in cases.