Covid Check-in: The Pandemic Takes Its Toll in Uruguay
Despite a strong vaccination campaign and early mitigation success, Uruguay is facing a fierce surge in cases.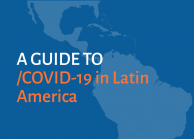 A Guide to COVID-19 in Latin America
Get resources on government responses, vaccine rollouts, and health impacts in the region.
Timeline: Tracking Latin America's Road to Vaccination
AS/COA Online covers major developments and Covid-19 vaccine rollouts as countries strive to return to normalcy.