Explainer: Latin America's Relationship with Israel and Palestine
Amid the conflict, learn about the region's ties with Israel and Palestine in terms of the diaspora, diplomacy, security, and more.
In recent weeks, four Latin American countries pulled their ambassadors from Israel over the country's actions in its war with Hamas in Gaza. Worldwide, that's just under half the countries that have taken the step of withdrawing their ambassadors from Israel. 
But reactions have not been uniform across the region, with responses to Hamas' October 7 attacks ranging from complete condemnation to neutrality. Latin America's actions toward the Israel-Hamas war are informed by decades of engagement with both Israel and Palestine. In this explainer, learn how Latin American countries have navigated the conflict in the past, what trade relations looks like, and how diasporas influence leaders' choices.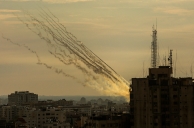 How Are Latin American Leaders Responding to Hamas' Attacks on Israel?
Although most leaders have condemned the attacks, there has not been a unified regional response to them or the subsequent conflict.