The Trade Advisory Group (TAG), made up of Council of the Americas member representatives and invited experts, advocates for open markets, trade facilitation, and rules-based trading systems in the Western Hemisphere. TAG members share a common commitment to the principle that international trade is a critical element in achieving sustainable economic growth in the United States and the nations of the Americas. TAG is a leading platform for policy-level idea generation and guidance related to hemispheric trade and investment, consistent with the longstanding values of Council of the Americas. TAG is co-chaired by Chris Padilla of IBM and Felipe Jaramillo of the World Bank.
The regional trade agenda in the Western Hemisphere underwent a retrenchment amid the coronavirus pandemic, which raised the specter of protectionism and how best to manage global supply chains. At the same time, digital economy, sustainability, labor, and inclusion have taken center stage. After the IX Summit of the Americas in Los Angeles, we continue to prioritize the importance of a robust North American trade and investment relationship, Western Hemisphere engagement in the Asia-Pacific region including APEC and the Pacific Alliance, and enhanced intra-regional trade, with a focus on both pandemic recovery and ensuring that the region is a competitive player in global digital trade.
In the last year, the Washington Office has hosted a wide range of trade- and investment-related events under the auspices of TAG to keep members apprised of developments as the region felt the effects of the pandemic. 
Opportunities are available for COA corporate members to sponsor the Trade Advisory Group.
2022 Trade Advisory Group Sponsor:

Featured Content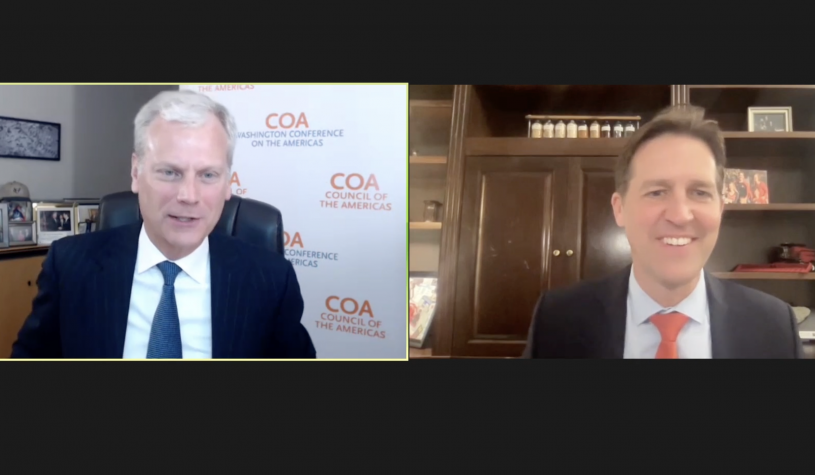 U.S. President Donald Trump and his Canadian and Mexican counterparts concluded a revamped North American trade agreement, the United States-Mexico-Canada Agreement (USMCA), which took effect July 1, 2020. An update of the 1994 NAFTA agreement, USMCA adds important digital economy, labor, and environment provisions. The Biden Administration has promised vigorous enforcement of this updated pact.
COA's Trade Advisory Group actively advocated for passage of USMCA, keeping members informed of implementation through a series of activities, including:
Briefings by senior Mexican officials, including Secretary of Economy Tatiana Clouthier, Under Secretary for North America Jesús Seade, Under Secretary for Foreign Trade Luz María de la Mora, and Ambassador of Mexico to the U.S. Esteban Moctezuma.
A review of U.S.-Mexico Relations under the Biden Administration with U.S. Ambassador to Mexico Ken Salazar.
A look at the future of the U.S.-Canada economic partnership with Canadian Senator Peter Boehm.
Beyond USMCA, the Trump Administration signed so-called "Phase 1" executive agreements on trade-related issues with Brazil and Ecuador. With the inauguration of President Joe Biden in January 2021, the United States has sought to focus on implementation of current trade agreements and is formulating a new approach to future agreements with hemispheric partners.
COA's Trade Advisory Group has continued to support regional integration, with a focus on digital trade and other 21st-century trade issues. Council activities on broader Western Hemisphere trade in the past year included:
Keynote addresses by U.S. Vice President Kamala D. Harris, Secretary of State Antony Blinken, Secretary of Commerce Gina Raimondo, U.S. Trade Representative Katherine Tai, Deputy U.S. Trade Representative Jayme White, and U.S. Senators Bill Cassidy, Bill Hagerty, and Ben Sasse at the Washington Conference on the Americas in 2021 and 2022.
Testimony before the Senate Foreign Relations Committee Western Hemisphere Subcommittee on the Ninth Summit of the Americas, including trade and investment issues.
In-depth briefings on the U.S. commercial and trade relationships with U.S. Under Secretary of Commerce for International Trade Marisa Lago.
Meetings with senior trade officials from Brazil, Chile, Colombia, Ecuador, Guatemala, Panama, and Mexico, among others.
Although the pandemic has dominated since 2020, COA has maintained an active agenda to keep members informed of how shifting global geo-politics are affecting trade priorities in the Western Hemisphere. Recent activities include:
Programs with representatives from the U.S., Brazilian, and Japanese governments to discuss Japan's growing trade and investment with the region and how the need for resilient post-COVID supply chains may affect the region.
Discussions on China's rising influence in Latin America with academic experts, senior business executives, and U.S. government officials.
A look at the implications of Brexit for UK-Americas relations with British Trade Commissioner for Latin America and the Caribbean and a panel of experts.
An expert discussion on how global trends in trade, environment, and climate change will affect companies and governments in the Americas.