The Trade Advisory Group comprises representatives from members of the Council of the Americas and invited experts who each educate and advocate for open markets and trade facilitation in the Western Hemisphere. We share a common commitment to the principle that commercial openness is in the strategic interest of the United States and the nations of the Americas, despite the continued political allure of protectionism. We seek to be a leading platform for hemispheric trade and investment policy idea-generation and guidance, consistent with the longstanding values of the Council of the Americas. Building on our previous work over many years, we will continue to prioritize the importance of a robust North American trade and investment relationship, Western Hemisphere engagement in the Asia-Pacific region including APEC and the Pacific Alliance, and enhancing intra-regional trade, among other topics.
Featured Content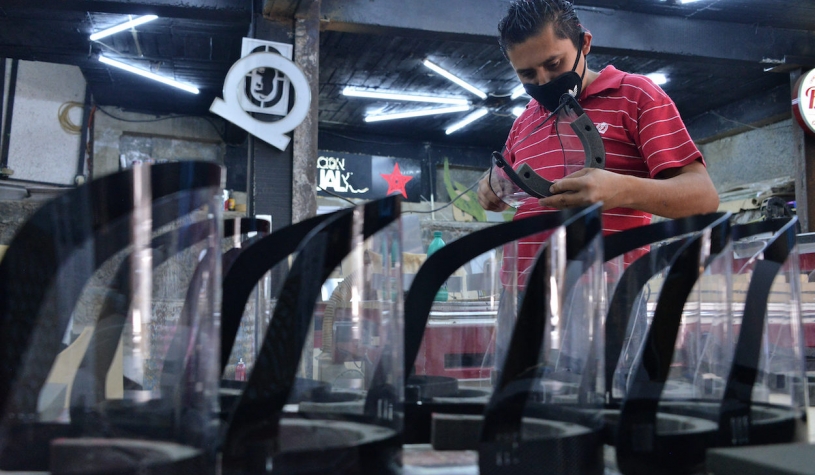 Activities: Western Hemisphere Trade with the World
The regional trade agenda in the Western Hemisphere has never been more dynamic. In 2018, we saw four countries in our hemisphere join the largest regional trade agreement in history, the Comprehensive and Progressive Agreement for Trans-Pacific Partnership (CPTPP). The Pacific Alliance between Chile, Colombia, Mexico, and Peru also continued to push forward its agenda to create a free flow of goods and services in the four countries, and now has 55 observer countries. The United States is in the process of negotiating new bilateral agreements and revamping others with countries throughout the Americas.
Council of the Americas advocates for increased trade and investment between countries in the Western Hemisphere and with the rest of the world, facilitated by bilateral and regional trade agreements. In 2018, we invited representatives from the Japanese government to talk about Japan's growing trade and investment with the region. We hosted experts to discuss China's rising influence in Latin America, as China has surpassed the US as the number one trade partner in many countries, including Brazil and Chile. We welcomed the trade ministers from across the region as they travelled to Washington. In 2019, we will be working closely with the Chilean government as Chile hosts APEC.  

Senator Ben Sasse
Chair, Subcommittee on National Security and International Trade and Finance


Marcos Jorge de Lima
Minister of Development, Industry and Foreign Trade, Brazil


Pablo Campana
Minister of Trade, Ecuador

Abrão Neto
Secretary of Trade, Brazil

 


Rogers Valencia
Minister of Trade and Tourism, Peru
In 2018, the Washington Office hosted:
Marcos Jorge de Lima, Acting Min of Development, Industry,& Foreign Trade of Brazil; Abrão Neto, Brazil's Secretary of Foreign Trade, Secretariat of Foreign Trade – SECEX, Ministry of Industry, Foreign Trade and Services - MDIC; Rogers Valencia, Minister of Trade and Tourism, Government of Peru; Miguel Braun Secretary of Trade of Argentina, and Shunko Rojas, Under Secretary of Trade of Argentina; Rodrigo Yañez, Vice Minister for Trade, Government of Chile; Pablo Campana, Minister of Foreign Trade and Investment of Ecuador; Marcelo Guaranys, Deputy Minister for Public Policies, Civil Cabinet, Presidency of the Republic of Brazil.
Trade Integration in North America
For decades, Council of the Americas has advocated that increased trade and investment in North America is imperative for our region to remain globally competitive. For over 50 years we ran the U.S. section of the U.S.-Mexico Business Committee, which predated North American Free Trade Agreement (NAFTA) and was a primary advocate for the original NAFTA. In 2017 and 2018, we actively engaged with the U.S., Canadian, and Mexican governments during the renegotiation of NAFTA, and we will continue to engage, educate, and advocate in support of the U.S.-Mexico-Canada (USMCA) agreement during the ratification process. 

Everett Eissenstat
Deputy Director, National Economic Council


Angela Ellard
Chief Trade Counsel, U.S. House Ways and Means Committee


Representative Paul Cook
Chairman, Western Hemisphere Affairs Subcommittee

Gilbert Kaplan
Under Secretary for International Trade, Department of Commerce 


Paulo Carreno
CEO, ProMexico
Washington Office Programs on NAFTA & North America in 2018
In 2018, we hosted 26 programs on North America/NAFTA, including 16 private, off-the-record meetings, three off-the-record conference calls, and seven public events.
We traveled to regions that are impacted the most by the possibility of a withdrawal from NAFTA, including the U.S.-Mexico border. We traveled to El Paso, TX, for the annual US-Mexico conference at the border with The Borderplex Alliance. We also travelled to Houston, TX; Cabo San Lucas, Mexico; Tempe Arizona; and Albuquerque, New Mexico to talk about NAFTA.
We hosted meetings with many leaders from the three countries to discuss NAFTA and North America, including:
Mexican government — Jorge Lomónaco Tonda, Mexican Permanent Representative to the Organization of American States (OAS); Kenneth Smith-Ramos, the Director of Chief Technical Negotiator of NAFTA; Enrique de la Madrid, Minister of Tourism of Mexico; Paulo Carreño, CEO of ProMexico; Gerónimo Gutiérrez,  Ambassador of Mexico to the United States
Canadian government — David Macnaughton, The Ambassador of Canada to the U.S.; Stephen Poloz, Governor of the Bank of Canada
US Government:
US Department of Commerce: Gilbert Kaplan, Under Secretary for International Trade at the Department of Commerce
US Congress: Senator Bill Cassidy (R-LA); Congressman Paul Cook, Chairman of the House of Foreign Affairs Western Hemisphere Subcommittee; Angela Ellard, Chief Trade Counsel to the Republican Members of the Committee on Ways & Means; U.S. House of Representatives, Senator James Lankford (R-OK)
Executive Branch: Everett Eissenstat, Deputy Assistant to the President for International Economic Affairs
Private Sector Experts: Antonio Ortiz-Mena, Senior Vice President, Albright Stonebridge Group (ASG);  Arturo Sarukhan, President, Sarukhan & Associates LLC; Former Mexican Ambassador to the U.S.; Bruce Andrews, Managing Director, Rock Creek Global Advisors; Former U.S. Deputy Secretary of Commerce; Miriam Sapiro, Managing Director and Vice Chairman, SVC Public Affairs; Former Acting U.S. Trade Representative
Trade Associations and NGOs: Alberto de la Fuente, president of AMEXHI; Andrew Selee, PhD, President, Migration Policy Institute,                 
News: Eric Martin, Bloomberg News Reporter
---
Featured TAG Activity: