Art at Americas Society's Flag Series: Raul Mourão
On view: through
Since 2020, the Flag Series presents public artworks from artists across the Americas, bringing their contributions to the audiences in New York. Artists are invited to create artworks to hang from the flagpole placed on the exterior of our building on 68th Street. Three artists—from Guatemala, Chile, and Puerto Rico—have presented their artworks in the series thus far.
Raul Mourão's presentation for the Winter and Spring of 2023, The New Brazilian Flag #3 (2018), is part of a series of works he started in 2018. In the years since, he has reconceived the flag's formal structure, rethinking its shape and colors. In this version of the Brazilian flag, the artist removes the central blue circle, allowing viewers to see through the flag. With the arrival of the COVID crisis, the flag came to be a symbol of the void left by the pandemic victims.
In March 2023, Raul Mourão will also install a public sculpture in the mall in Park Avenue and 68th street, organized by The Fund for Park Avenue, with the support of Nara Roesler Gallery, in collaboration with Americas Society.
The Flag Series is part of Americas Society's Art Program, which for more than 50 years has provided a unique platform for recognized and emerging artists and art from Latin America, the Caribbean, and Canada, in modern, contemporary, colonial, archeological and Pre-Hispanic exhibitions. Through exhibitions, public programs, and publications, the Art program increases awareness and recognition of artists of the Americas among U.S. audiences and promotes understanding of art from the region in a global context.
Raul Mourão, The New Brazilian Flag #3 (2018)
January 24 to July 22, 2023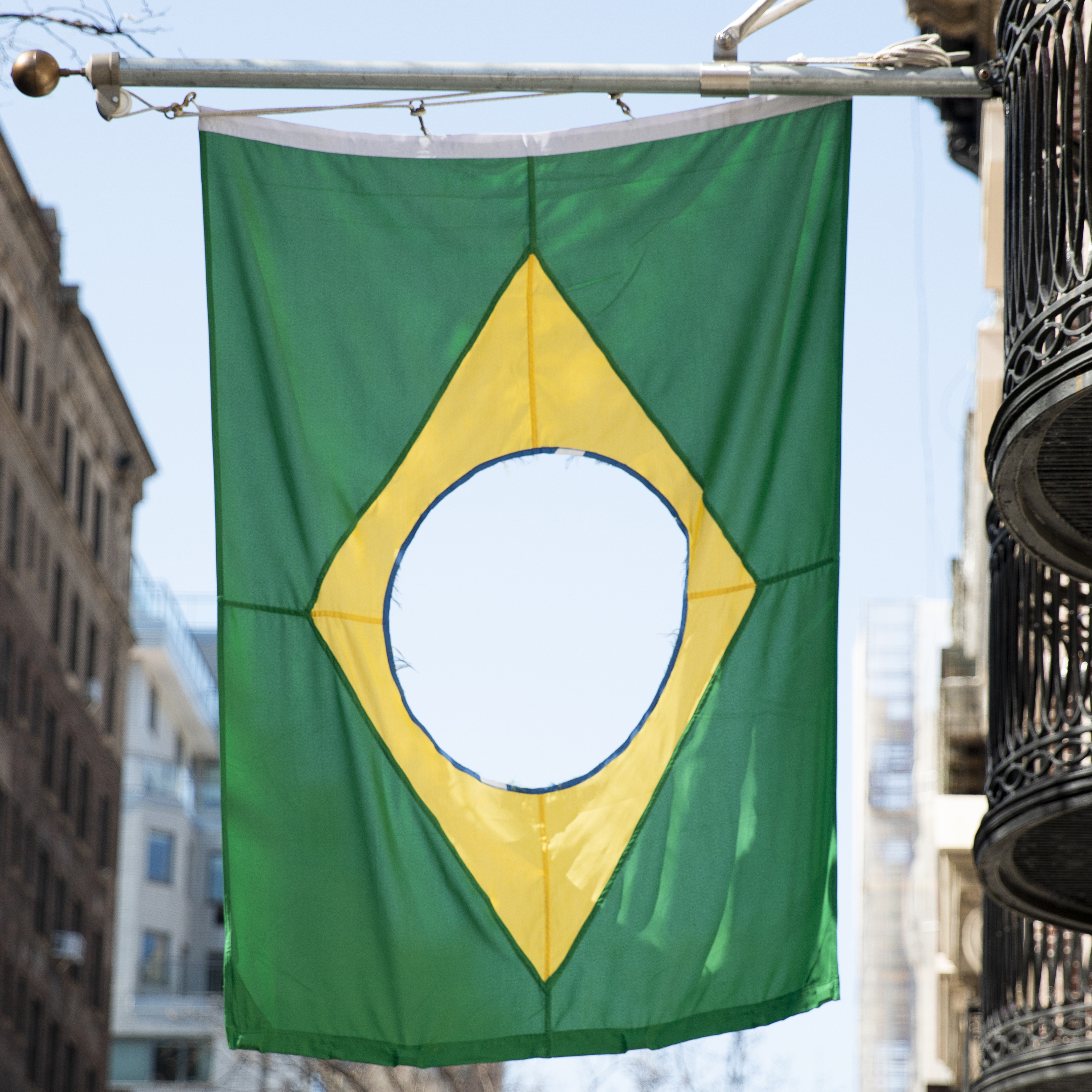 ABOUT THE ARTIST
Raul Mourão was born in 1967 Rio de Janeiro, where he lives and works. Working across various media such as installation, sculpture, photography, video, drawing and performance, Raul Mourão is part of a generation that marked Rio's artistic scene in the 1990s. Commenting on subjects as everyday life, politics or social constructs, frequently permeated by a critical sense of humor, one of the main concerns in Mourão's work is the urban space. His visual vocabulary proposes displacements and redefinitions of familiar symbols and forms in contemporary society as a means of stimulating thought on the matters of place, urbanism and human interactions.
Main recent solo exhibitions and projects include: Fora/Dentro at Museu da República (2018) in Rio de Janeiro, Brazil; Você está aqui at Museu Brasileiro de Ecologia e Escultura (MuBE)(2016) in São Paulo, Brazil; Please Touch at Bronx Museum (2015) in New York City, USA; Tração animal at Museu de Arte Moderna do Rio de Janeiro (MAM Rio) (2012) in Rio de Janeiro, Brazil; Toque devagar at Praça Tiradentes (2012) in Rio de Janeiro, Brazil. Main recent group exhibitions include: Coleções no MuBE: Dulce e João Carlos de Figueiredo Ferraz – Construções e geometrias at Museu de Ecologia e Escultura (MuBE) (2019) in São Paulo, Brazil; Modos de ver o Brasil: Itaú Cultural 30 anos at Oca (2017) in São Paulo, Brazil; Mana Seven at Mana Contemporary (2016) in Miami, USA; Brasil, Beleza?! Contemporary Brazilian Sculpture at Museum Beelden Aan Zee(2016) in Hague, The Netherlands; Vancouver Biennial 2014-2016, Canada (2014). His works are in important permanent collections such as: Art Museum, Tempe, USA; Instituto Itaú Cultural, São Paulo, Brazil; Museu de Arte Contemporânea de Niterói(MAC-Niterói), Niterói, Brazil; Museu de Arte do Rio (MAR), Rio de Janeiro, Brazil; and Museu de Arte Moderna do Rio de Janeiro (MAM Rio), Rio de Janeiro, Brazil.
NEXT IN THE SERIES
Summer 2023. Elektra KB (Colombia)
HISTORY OF THE SERIES

From left to right, top to bottom: Esvin Alarcón Lam, Amarica: Todas invertidas (2018); Felipe Mujica Estrella Distante (2021); nibia pastrana santiago, YOUR ISLAND HERE; Raul Mourão, The New Brazilian Flag (2018).
February 14 through May 16, 2020
The inaugural flag, Amarica: Todas invertidas by Esvin Alarcón Lam—born in Guatemala in 1988—incorporates a version of each national flag from Latin America and the Caribbean washed in pink. The work's title references to Uruguayan artist Joaquín Torres García's iconic drawing of the Americas that situates the south at the top of the map, subverting notions of center and periphery. Alarcón Lam reunites the whole continent through a new "inversion" and employs the color pink to highlight LGBT+ pride and activism.
February 8 through July 30, 2022
The two rotating flags Estrella Distante by Felipe Mujica (b. Santiago, Chile; 1974) propose an abstract reinterpretation of an ancient Mapuche flag, which consists of a white guñelve—an eight-pointed star—over a colorful background.
Mujica says about his flags: "Since the social outbreak (Estallido Social) in Chile in the Fall of 2019, the assertion of indigenous culture and territorial demands were placed at the center of the political discussion. Their historical struggle was accompanied and complemented by student demands, health and pension reforms, and both feminist and LGTBQ+ activism (among many other demands concentrated on recovering social, gender, and racial equality). This is the first set of flags I ever produced. On the one hand, I am slightly against flags as symbols of power, in such a direct way, on the other hand, I call my textile-based work 'curtains' as a way to specifically channel the conversation about them from a domestic point of view. This project then contains this dichotomy, the overtly political and the social implications of the domestic (the flags will be produced by myself at home)."
Through abstraction and playfulness, these flags decompose and deconstruct the original flag turning them into symbols asserting indigenous culture and social rights in Chile, at the same time that they highlight the political dimension of the domestic.
September 6 through December 21, 2022
nibia pastrana santiago creates a new version of YOUR ISLAND HERE (2019). The flag displays the phrase "your island here," where the Y in "you" is obscured by the letter X, marking a place, that of the people. "YOU" becomes "OUR," for the plural, para y de la gente (for and of the people). Often, islands are prone to outsider real estate speculation. When properties are for sale, it is common usage language that addresses the buyer in the second person; for instance, "your dream beach house." pastrana santiago subverts this paradigm by reclaiming the local (whether it be an island or Park Avenue and 68th Street) for the collective ("our island"). Its installation evokes a sense of place, of island-ness, in the Upper East Side of Manhattan, an island itself.
pastrana santiago's flag is a continuation of the performance our island here (2019) from the series not accidentally given: pesimismo tropical (2019). The earlier version was a twenty-by-four-foot-long banner designed to float horizontally over the water along the coast of Captiva Island in the Gulf of Mexico to be viewed from the air. Across its massive surface, it displayed the same phrase "YOUR ISLAND HERE." It was conceived both as an anti-tourist, anti-investor advertisement, and as a reminder of rising sea levels due to climate change. The original work was activated in a choreographic event by colleagues at the Rauschenberg Residency, carrying the banner through the water, creating a dialogue with ideas about tropical pessimism and the privatization of the coasts.
Funders
Americas Society acknowledges the generous support from the Arts of the Americas Circle members: Estrellita B. Brodsky, Virginia Cowles Schroth, Emily A. Engel, Diana Fane, Galeria Almeida e Dale, Isabella Hutchinson, Carolina Jannicelli, Vivian Pfeiffer, Phillips, Gabriela Pérez Rocchietti, Erica Roberts, Sharon Schultz, Diana López and Herman Sifontes, and Edward J. Sullivan.