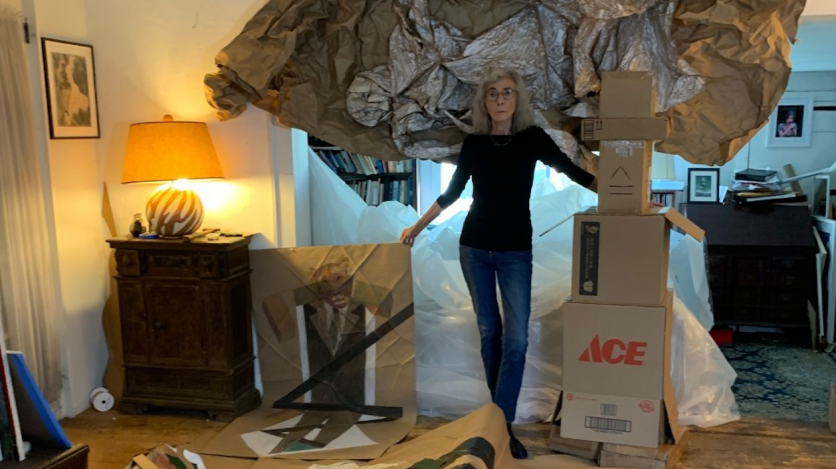 A self-portrait. (Sylvia Palacios Whitman)
In the Studio: This Must Be the Place – Sylvia Palacios Whitman
Overview
Sylvia Palacios Whitman in conversation with Carla Stellweg, art historian.
Join us live on Instagram from your phone, or watch on YouTube after, for a series of conversations with some of the artists of This Must Be the Place: Latin American Artists in New York, 1965–1975 to bring Americas Society's Visual Arts public programs to your home. Every other Wednesday this month, artists will dialogue with our guest host Carla Stellweg, to talk about their work and practice.
About the artist
Sylvia Palacios Whitman was born in 1941 in Osorno, Chile. She studied at Santiago's School of Fine Arts, before moving to New York City in 1961. In 1971 she began to perform with Trisha Brown's company for several years. In 1974 Palacios Whitman presented the first concert of her own works and continued to present performance evenings in various venues in New York and Europe throughout the 1970s. More recently, Palacios Whitman's visual work has been shown at the Whitney Museum, Hammer Museum and the Brooklyn Museum, where she also presented performance evenings. She also performed at the Tate Modern in 2018 and at the KunstFestSpiele in Hannover, Germany, in 2019. She currently has a retrospective exhibition, "Alrededor del Borde/Around theEdge" at the Centro Nacional de Arte Contemporáneo, Santiago, Chile, until January 2022.
About the guest speaker
Carla Stellweg is an independent consultant specializing in Latin American and Latinx art and artists. Throughout her career, she has worked as a museum and non-profit director, writer, editor, curator, and professor. Carla is considered a pioneer promoter and facilitator in Latin American international contemporary art. She was and continues to be instrumental in introducing many young and mid-career artists from Latin America, Latinx-U.S., Cuba and the Caribbean producing conceptual, socially-engaged art in both new and traditional media, either working in New York or from around the world.Along with the collectives Museo Latinoamericano and MICLA, many of which are exhibited in This Must Be the Place she created the artist book Contrabienal in 1971 in response to an international call to boycott the XI São Paulo Biennial in protest of the censorship and torture in dictatorial Brazil.
Visit the Americas Society Visual Arts YouTube Channel for recordings of In the Studio Series and other previous events.
Follow the conversation on Instagram: #IntheStudioAS | @americassociety.visualarts
---
More digital content from Visual Arts at Americas Society:
In the Studio Series