Registration: 5:30 p.m. to 6:00 p.m.

Presentation and Discussion: 6:00 p...

Live broadcast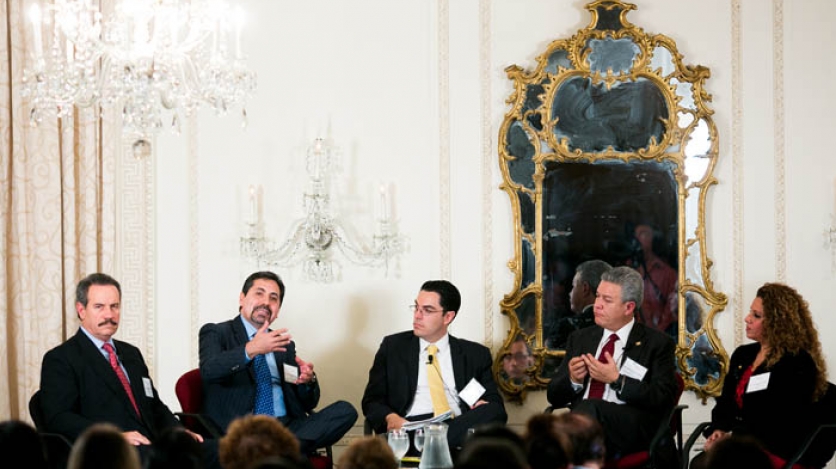 (Image: Roey Yohai)
Energy Reform in Mexico: Challenges and Opportunities for Mexico's New Energy Landscape
Four Mexican legislators will discuss the country's energy reform.
Overview

AS/COA will host Mexican Senator David Penchyna Grub, Congresswoman Rocio Abreu Artiñano, and Congressmen Juan Bueno Torio and Rubén Camarillo Ortega for a public panel in New York. All four are key members of Commissions involved in drafting the country's energy reform; President Enrique Peña Nieto signed the legislation's secondary regulations into law on August 11, ending a 75-year monopoly by state-run company Pemex. According to the Mexican government, GDP will increase by two points by 2025, 2.5 million new jobs will be created, and the cost of energy will decrease because of the reform. The legislators will discuss their views on the reform as well as the legislative process and implications for Mexico's and North America's future.
Panelists:
David Penchyna Grub (PRI) - President, Senate Energy Commission (View his presentation.) (Mire la presentación del senador.)
Juan Bueno Torio (PAN) - Secretary, Energy Commission
Rubén Camarillo Ortega (PAN) – Secretary, Energy Commission
Rocio Abreu Artiñano (PRI) -  President, Environmental PEMEX Commission
Enrique Perez Grovas, Partner, Latin America Business Center, Financial Services, Ernst & Young LLP (Moderator)
Note: This event is free of charge. Prior registration is required.
Event Information: Ernesto Aguilar | eaguilar@as-coa.org | 1-212-277-8393
COA Corporate Membership Information: Monica Vieira | mvieira@as-coa.org | 1-212-277-8344
Press Inquiries: Adriana La Rotta | alarotta@as-coa.org | 1-212-277-8384
Cancellation: Please contact Juan Serrano-Badrena at jserrano@counciloftheamericas.org before 3:00 p.m. on Friday, November 28, 2014