Vaccines Reignite China vs. Taiwan Debate in Latin America
Guatemala, Honduras, Nicaragua, and Paraguay, which recognize Taipei over Beijing, are among the few countries in the region not receiving Chinese vaccines.
As Latin America continues its progress toward vaccination, three Chinese vaccines—CanSino, Sinopharm, and Sinovac—are getting widely distributed in the region. Eleven countries there have contracts to receive Chinese vaccines, and in Argentina, Chile, and Peru, they constitute the majority of doses. But some countries, notably Guatemala, Honduras, Nicaragua, and Paraguay, are not using these vaccines. Why? They have diplomatic ties with Taiwan instead of China.
Now, the president of Honduras, Juan Orlando Hernández, has announced he's considering opening a trade office with China with the goal of gaining access to its vaccines. And Paraguayan officials say that in April Beijing reached out to offer vaccine deals. Both moves are making Taiwan worry that its allies in the region are considering switching their allegiance. This is the latest chapter in the trend of "vaccine diplomacy"—a term used to describe how powerful countries like China, Russia, and the United States are using the provision of vaccines to curry global favor.
Timeline: Tracking Latin America's Road to Vaccination
AS/COA Online covers major developments and Covid-19 vaccine rollouts as countries strive to return to normalcy.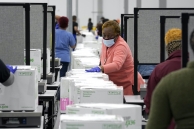 Vaccinate the Americas
"Without vaccinating the Americas, Washington will cede its claim to being the preferred regional partner," writes Eric Farnsworth for World Politics Review.