Six Notable Pedro Castillo Quotes as He Hits Six Months in Office
The Peruvian president waited until he was half a year into his term to talk with the media. We look at some of his more indicative quotes.
AQ Podcast: The Mystery of Pedro Castillo, Peru's President
How to explain the administration's oddly quiet start – and what to expect in the months ahead.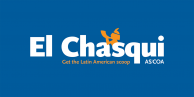 El Chasqui Newsletter: Get the Latin American Scoop
Get our weekly Friday newsletter in your inbox for updates on Latin American politics, economics, and culture.