Shale Gas Development in Latin America
While numerous countries possess an abundance of this resource, factors from rule of law to technology access represent barriers to exploiting shale gas reserves.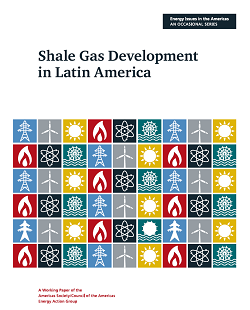 Shale gas is revolutionizing the global energy landscape and the impressive size of proven reserves puts the Western Hemisphere in an enviable position to capitalize on new realities. In addition to the United States and Canada, Argentina, Brazil, and Mexico all rank within the top 10 countries worldwide with technically recoverable shale gas resources; together, they make up approximately 40 percent of the world's total supply. Colombia also has significant potential. 
Nonetheless, while the existence and recoverability of these resources is apparent, the economic viability of extracting them is unclear, given production costs, volumes, and wellhead prices. Beyond purely economic considerations, a variety of factors including the regulatory framework, infrastructure, access to capital, and environmental and other political considerations could potentially retard development of the sector, especially as the pace of shale gas development quickens and investors concentrate elsewhere.
Shale Gas Development in Latin America proposes that shale development in the region is a path to partnership with the United States, the leader in shale in the hemisphere. Furthermore, the report proposes the idea of a Western Hemisphere Shale Gas Council, for the purpose of coordinating best practices and exchanging sectorial views at the government level. Significant attention must be paid to the efficient and effective development of shale gas in Latin America specifically if the region is to participate fully in the global shale revolution. Finally, the report uses case studies to illustrate the examples of Argentina, Mexico, Brazil, and Colombia.
---
AS/COA's Energy Action Group (EAG) brings together the public and private sectors to develop strategic energy policies for the Americas. The EAG hosts forums in cities across the Americas and publishes working papers and recommendations on key energy and climate topics.
---
For media inquiries or to speak with an expert on this topic, please contact Adriana La Rotta at alarotta@as-coa.org.