Poll Update: Latino Voters in the U.S. Primaries
How can candidates win Latino votes? Start talking about jobs and the economy.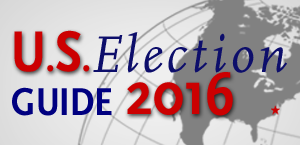 With primary voting in several states with significant Latino populations on the near horizon, a new breakout sample of Latino voters in a national survey indicates the Democrats might not have as strong a hold on the Latino primary vote as they've had in other elections. Then again, Latinos are just as likely not to participate in a primary at all.
Latino voters questioned in a USA Today/Suffolk University national poll released February 17 indicated they intend to turn out in relatively equal numbers for the Democratic and Republican primary contests. Two in five respondents remain uncommitted, with many planning to skip the primaries and vote only in the November 8 general election. On the other hand, a Univision survey of 1,400 registered Latino voters last summer found they identified more often as Democrats than Republicans by more than 2 to 1.
So how can candidates work to sway Latino voters? Start talking about jobs and the economy, for one, which was not only listed as the most important issue among voters in the survey, but one that was comparatively more important for Latino voters, along with education and crime.
While undocumented immigration comes up regularly in debates, it was not among voters' top five concerns—either among the population at large or Latinos. The data mirrors a post-2014 midterm-election survey by Pew Research, which found that 49 percent of Latino voters said the economy was the most important issue, compared to 16 percent who picked undocumented immigration. Neither survey asked about related but separate issues such as immigration reform.
Indeed, different issues take priority for different Latino communities in the United States, said former New Mexico Governor Bill Richardson in New York on January 29. Richardson, a onetime Democratic presidential candidate, singled out public safety, the economy, and small businesses as top issues in the community. "I always said, if the Republicans get away from their bias against immigration and start talking to the community, we [Democrats] are going to be in trouble," he said.