Poll Update: Hispanic Voters and the 2016 U.S. Presidential Election
Donald Trump's highest support is among primarily English-speaking Hispanics, though Hillary Clinton still polls ahead with that group, too.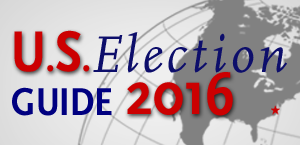 Democrat Hillary Clinton does not need to worry about winning the Hispanic vote on November 8; her campaign just needs to work to make sure those voters go to the polls. While Hispanics are one of the fastest-growing voting blocs, they also have a turnout rate that's almost 20 points lower than those of white and black voters. But, if they do show up, Hispanics are expected to back Clinton by a nearly 3 to 1 margin, per a new poll by Pew Research. What's the one issue on the forefront of Hispanic voters' minds? The economy—just as it is for everybody else.
For his part, Republican candidate Donald Trump has a more notable sway, albeit still minority, over one sub-demographic: Hispanics who are English dominant. Forty-one percent of those who are more proficient in English than in Spanish plan to support him, compared to just 11 percent of Spanish-dominant and bilingual Hispanics who do so. That said, Clinton still polls ahead in the English-dominant group with 48 percent support.