Poll Tracker: Honduras' 2021 Presidential Election
Ahead of the November 28 vote, AS/COA Online monitors the competition between Nasry Asfura, Xiomara Castro, and Yani Rosenthal.
Against the backdrop of the pandemic, natural disasters, and numerous high-profile corruption scandals, Honduras will hold elections for a host of offices, including a new president and all 128 members of the National Congress on November 28. When heading to the ballot box, voters will also carry memories of both the 2009 coup, in which then-President Manuel Zelaya was removed from office following efforts to overturn a reelection ban, and the 2017 election, where current President Juan Orlando Hernández of the National Party declared victory amid violence and allegations of fraud. It comes as little surprise that Latinobarómetro found Hondurans to have the lowest level of support for democracy in Latin America.
In this single-round, winner-takes-all presidential vote, the National Party seeks to extend its nearly 12 years in power with candidate Nasry "Tito" Asfura, the popular mayor of Tegucigalpa who nonetheless has been tied to a $1 million embezzlement scandal. His top rival is the LIBRE party's Xiomara Castro de Zelaya, former first lady and prior presidential candidate who narrowly missed becoming vice president on the 2017 ticket headed by Salvador Nasralla. This time around, Nasralla, a one-time sports broadcast host, made her a frontrunner when he opted to drop out and backed her in October. Polling behind both is the Liberal Party's Yani Rosenthal, a businessman and political scion who served as a minister in Zelaya's government and did time in a U.S. jail for money laundering.
Voting is not mandatory in Honduras and turnout averages 56 percent. AS/COA Online charts how the race is shaping up in a poll tracker. See our 2021 Election Guide for more on this year's races in Latin America.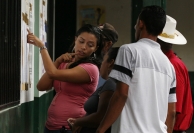 LatAm in Focus: Democratic Tests in Honduras and Nicaragua
International Crisis Group's Tiziano Breda covers the two elections while El Milenio's Juan Pablo Sabillón covers efforts to combat young Honduran voters' apathy.