Poll Tracker: Guatemala's 2023 Presidential Runoff 
Voters will decide between Bernardo Arévalo and Sandra Torres in the August 20 second-round election.
August 20 will conclude a Guatemalan election cycle marked by candidate disqualifications, demonstrations, and first-round upsets. It all comes down to two candidates: former First Lady Sandra Torres of the National Unity of Hope and Congressman Bernardo Arévalo of Semilla.
This will be the third time Torres will compete in the runoff after losing the 2015 and 2019 contests. Although she came in first, the June 26 first round had a large number of contenders and Guatemalans expressed their overall dissatisfaction. She won 15.9 percent of the vote in an election in which a full 24.4 percent of participants cast a blank or null ballot. 
But it is the first time Arévalo—an anti-corruption activist and son of Juan José Arévalo, Guatemala's first democratically elected president—will compete in a second round. He outperformed polls and surprised observers by capturing 11.8 percent of the vote in June, which was 4 points more than the third-place finisher. Still, Arévalo has faced obstacles to campaigning. His party, Semilla, was suspended by a prosecutor on July 12 before electoral authorities rejected the decision.
How are Arévalo and Torres polling? What are top issues for voters? AS/COA explores: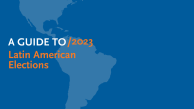 A Guide to 2023 Latin American Elections
AS/COA covers this year's votes in the Americas, from presidential elections to referendums.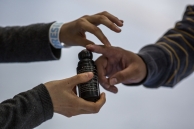 LatAm in Focus: Guatemala's Electoral Crossroads
Veteran journalist Juan Luis Font of ConCriterio covers who's in—and out—of the race, democratic hurdles, and voter worries ahead of the June 25 election.